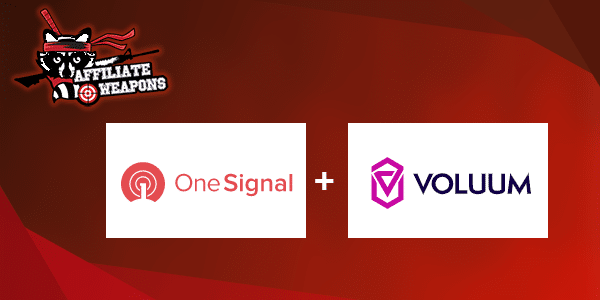 Use the following template to setup OneSignal postbacks to Voluum.
This way you can use Advertizer for example to pay for subscribers on CPA.
Using this example you will also be able segment by Device, Brand, Model, OS, ISP, Carrier and Source so you can target this later in OneSignal.
[php]
<link rel="manifest" href="/manifest.json" />
<script src="https://cdn.onesignal.com/sdks/OneSignalSDK.js" async=""></script>
<script>
function getURLParameter(name) {
return decodeURI(
(RegExp(name + '=' + '(.+?)(&|$)').exec(location.search)||[,null])[1] || "
);
}
var OneSignal = window.OneSignal || [];
OneSignal.push(function() {
OneSignal.init({
appId: "YOUR ONESIGNAL APP ID HERE",
});
});
OneSignal.push(function() {
var device = getAllUrlParams().device.replace(/%20/g, " ");
var brand = getAllUrlParams().brand.replace(/%20/g, " ");
var model = getAllUrlParams().model.replace(/%20/g, " ");
var os = getAllUrlParams().os.replace(/%20/g, " ");
var isp = getAllUrlParams().isp.replace(/%20/g, " ");
var carrier = getAllUrlParams().carrier.replace(/%20/g, " ");
var sourcename = getAllUrlParams().sourcename.replace(/%20/g, " ");
var clickid = getAllUrlParams().clickid;
OneSignal.on("notificationPermissionChange", function(permissionChange) {
var currentPermission = permissionChange.to;
});
OneSignal.on("subscriptionChange", function (isSubscribed) {
console.log("The user's subscription status has change, isSubscribed:", isSubscribed);
OneSignal.getUserId( function(userId) {
console.log("OneSignal User ID:", userId);
if (isSubscribed) {
OneSignal.sendTag("device_key", device);
OneSignal.sendTag("brand_key", brand);
OneSignal.sendTag("os_key", os);
OneSignal.sendTag("sourcename_key", sourcename);
OneSignal.sendTag("isp_key", isp);
OneSignal.sendTag("carrier_key", carrier);
var xhr = new XMLHttpRequest();
xhr.onreadystatechange = function() {
if (xhr.readyState == XMLHttpRequest.DONE) {
}
}
xhr.open("GET", "https://your-postback-domain.com/postback?cid="+getURLParameter("cid"), true);
xhr.send(null);
setTimeout(function(){location.href="https://success-redirect-campaign.com/e3944754391-da9bfc8352604";
},1500);
}
});
});
});
function getAllUrlParams(url) {
var queryString = url ? url.split('?')[1] : window.location.search.slice(1);
var obj = {};
if (queryString) {
queryString = queryString.split('#')[0];
var arr = queryString.split('&');
for (var i=0; i<arr.length; i++) {
var a = arr[i].split('=');
var paramNum = undefined;
var paramName = a[0].replace(/\[\d*\]/, function(v) {
paramNum = v.slice(1,-1);
return ";
});
var paramValue = typeof(a[1])==='undefined' ? true : a[1];
paramName = paramName.toLowerCase();
if (obj[paramName]) {
if (typeof obj[paramName] === 'string') {
obj[paramName] = [obj[paramName]];
}
if (typeof paramNum === 'undefined') {
obj[paramName].push(paramValue);
}
else {
obj[paramName][paramNum] = paramValue;
}
}
else {
obj[paramName] = paramValue;
}
}
}
return obj;
}
</script>
[/php]
You will have to change the Voluum Postback domain on line 47:
xhr.open("GET", "https://your-postback-domain.com/postback?cid="+getURLParameter("cid"), true);