Surfer SEO Coupon - ✅ 100% Verified Deals September 2023
Today's coupons and deals on Surfer SEO valid from September till October 2023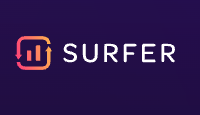 Join the Surfer SEO Affiliate Program by creating an ac
...More
Join the Surfer SEO Affiliate Program by creating an account, then:
Verify your email address, and login
Go to the "Affiliate Program" which you can find in the footer links or under "Account" profile.
If you can't find it try looking for "Referral Program" or "Partner Program"
Less
Send this coupon to an email
This is not a email subscription service. Your email (or your friend's email) will only be used to send this coupon.
Let other know how much you saved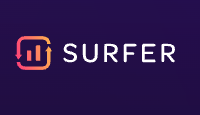 Join the Surfer SEO Affiliate Program by creating an account, then:
Verify your email address, and login
Go to the "Affiliate Program" which you can find in the footer links or under "Account" profile.
If you can't find it try looking for "Referral Program" or "Partner Program"
The Surfer SEO Affiliate Program is currrenlty open for registration
Earn Commissions with the Surfer SEO Affiliate Program
Expires: N/A
Submitted: 11 months ago
---
Welcome to the most complete review on Surfer SEO, the #1 for SEO and Content Marketing in one platform. Take advantage of our exclusive Surfer SEO coupon to get discount on one of their four pricing plans: Lite, Essential, Advanced and Max.
If you try out this tool, you will understand why Surfer SEO is a game changer and will greatly improve your search engine rankings within Google. Your organic visitors will grow by the day after using the "Grow Flow' add-on.
Want to try Surfer SEO for free? Subscribe to their Lite plan and contact us with the coupon "AWCASHBACK" to get the first month for free as a cashback if you did not like it. This way you can try it risk-free. We are sure that you're gonna love this tool for optimizing your website. We offer this exclusive money back guarantee because Surfer SEO does not officially have a free or trial plan.
Content Editor
Keyword Research
AI Outline Generator - generates outlines for your visitors that Google loves
Keyword Surfer Extension - displays search volumes and keyword data directly in your Google results
Surfer AI - $49 per month - powerful tool to generate optimized articles that rank using AI
Grow Flow - task scheduler sidekick to help your site grow organically by coming up with bite-sized tasks.
SERP Analyzer - $29 per month - Gain access to a range of powerful add-ons designed to take your work to the next level.
Audit - Quickly optimize your existing pages based on data from top-performing search results.
API - $29 per month -Automate query creation and analyse data without accessing Surfer web app.
White Label - Brand Surfer solutions with your own domain and logo using white labeling add-on
Surfer API: Generate queries without the need to access your dashboard!
Jasper AI: Import keywords from Surfer SEO to your Jasper AI workflow
WordPress: Export content from Surfer SEO to your WordPress blog easily with a few clicks.
Google Docs: Sidebar plugin for Google Docs to easily insert Surfer SEO content into your documents
SEMRush: Integrate SEMRush Backlinks into your Grow Flow of Surfer SEO to provide backlink insights and help you adjust your own link building strategy for growing your traffic.
Quickly access Surfer SEO from within Google Docs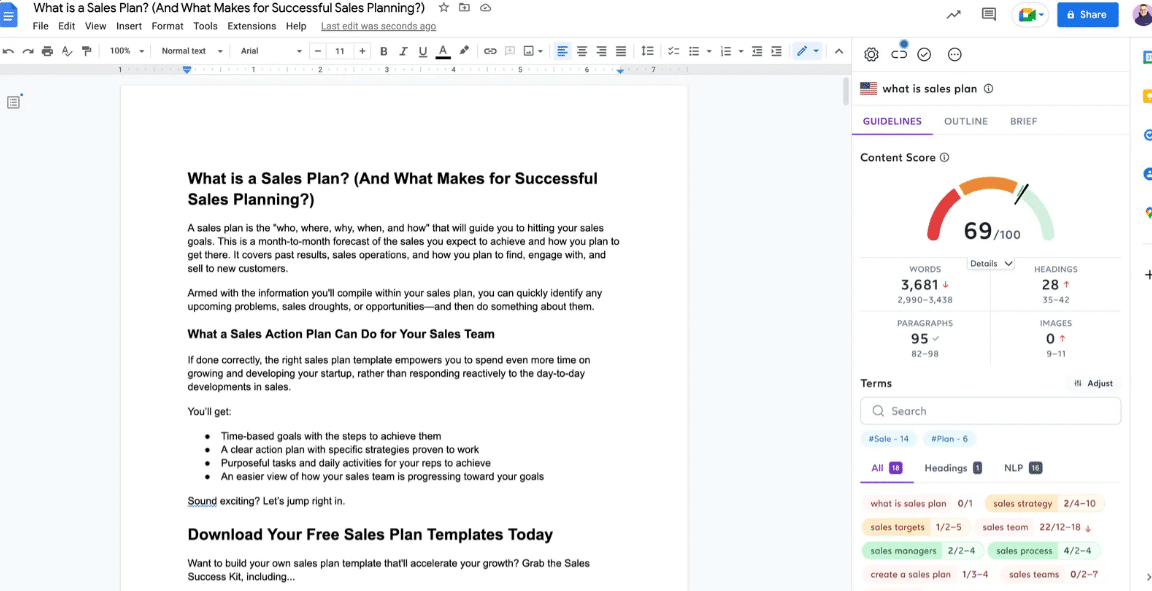 Connect Surfer SEO with SEMRush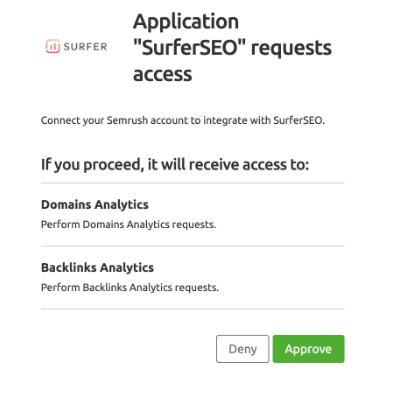 View from within SEMRush to connect Surfer SEO app with the SEMRush account.
Surfer SEO has five pricing plans: Lite, Essential, Advanced, Max and Enterprise.
| | | | | | |
| --- | --- | --- | --- | --- | --- |
| | LITE | ESSENTIAL | ADVANCED | MAX | ENTERPRISE |
| Price per month | $29 | $89 | $179 | $299 | Custom |
| Price per year | $19 | $69 | $149 | $249 | Custom |
| Content Editor Limits (articles/year) | 36 | 84 | 300 | 600 | Custom |
| Price per additional CE | $8 | $5 | $3 | $3 | Custom |
| Surfer AI Articles | $29 | $29 | $29 | $29 | Custom |
| Organization Seats | 0 | 2 | 5 | 10 | Custom |
| Shareable links | - | yes | yes | yes | yes |
| Plagiarism checker | - | yes | yes | yes | yes |
| Terms Assistant | - | yes | yes | yes | yes |
| Google Docs integration | - | yes | yes | yes | yes |
| WordPress integration | - | yes | yes | yes | yes |
| Jasper/Writesonic | yes | yes | yes | yes | yes |
| Dedicated Customer Success Manager | - | - | - | - | yes |
| Personalized product training | - | - | - | - | yes |
| Quarterly Business Review Meetings | - | - | - | - | yes |
| Premium support | - | - | - | - | yes |
| Legal assistance | - | - | - | - | yes |
| PO and annual invoicing | - | - | - | - | yes |
| Grow Flow (per domain) | $9 | $9 | $9 | 1+$9 | Custom |
| Audit (100/mo) | $49 | $49 | $49 | Included | Custom |
| SERP Analyser | $29 | $29 | $29 | Included | Custom |
| White label | - | $49 | $49 | Included | Included |
| API | $29 | $29 | $29 | Included | Included |
| | Start Now | Start Now | Start Now | Start Now | |
Which Plan Should You Choose?
Picking the right plan is a good a idea as it can be costly for the most expensive plan. All plans allow you to get additional "Content Editor Credits" at any time. The differences are only in the LITE and Enterprise plan. Only the LITE version has limited features. The Enterprise has no extra features but comes with more enterprise-level support perks.
Continue reading below to get an idea at which subscription you should start. You can always upscale at a later stage.
This plan is perfect for publishers - e.g. affiliate marketers and other individuals who want to monetize their online content. Unlimited access to Keyword Research and a higher Content Editor credit limit reflect a larger content output. We expect this to be the most popular plan for professionals with small-medium-sized projects.
If you are part of a professional team such as in-house marketing department, then this plan is for you. Such teams have several SEO-related duties that Surfer can automate and simplify, such as:
On-Page SEO
Content Creation
Internal linking
Website auditing
Surfer Max gives complete access to Surfer and the highest credit limits. This plan comes at $299/month and is best for marketing agencies who deal with a multitude of clients on a daily basis, and need the right tools to get the job done.
Take note of the generous Organizations limit of 10, which means up to 10 individuals + the subscription owner can share a single subscription. This is particularly beneficial for companies that work together as teams on Surfer SEO, as it means you don't have to buy separate subscriptions for each person.
Buying Additional AI Credits
You can buy extra Surfer AI credit packages and save up to $522 starting from 10 credits. Minimum order is 1 credit for $29.
| | | | | | |
| --- | --- | --- | --- | --- | --- |
| | 1 Credit | 10 Credits | 25 Credits | 50 Credits | 100 Credits |
| Free Credits | 0 | 1 | 3 | 8 | 18 |
| Regular Price | $29 | $299 | $725 | $1450 | 2900 |
| Savings | 0 | $29 | $87 | $232 | $522 |
| Final Price | $29 | $261 | $638 | $1218 | $2378 |
| | Buy Now | Buy Now | Buy Now | Buy Now | Buy Now |

Step #1: Create a Surfer SEO account
Step #2: Click on "Buy AI credits" in the bottom left corner,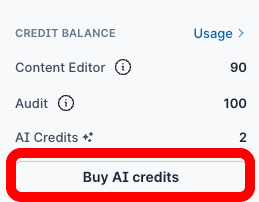 or click on "Show packages" on top of the dashboard after you logged in:

Step #3: Choose your AI credit package and click on "Buy now"
7-Day Money Back Guarantee
If you are not satisfied with Surfer SEO for whatever reason, you can request a full refund, no questions asked. That's very generous deal from Surfer SEO. Now you can try it out and find out how powerful Surfer SEO is without taking any risks.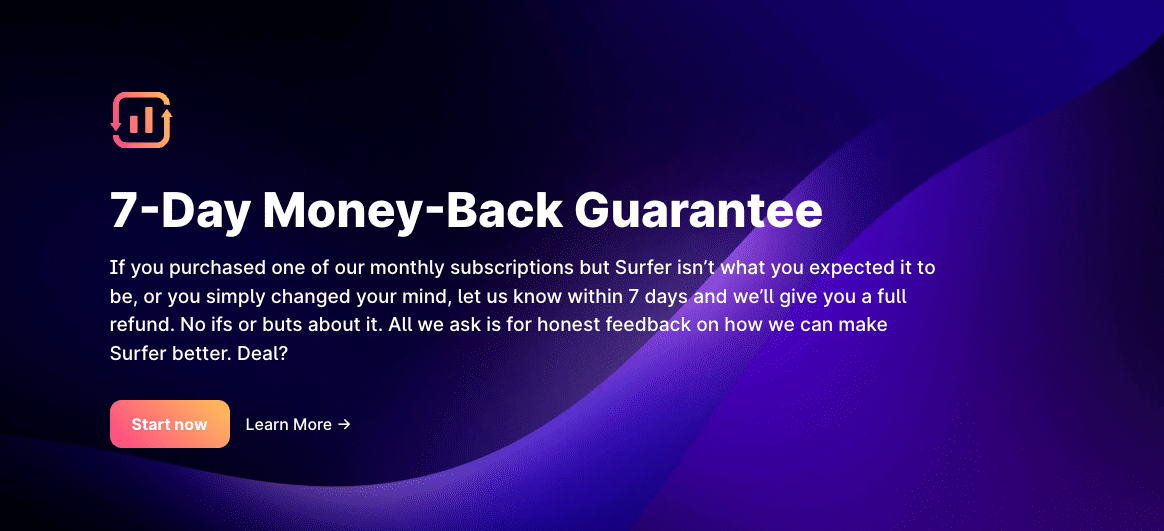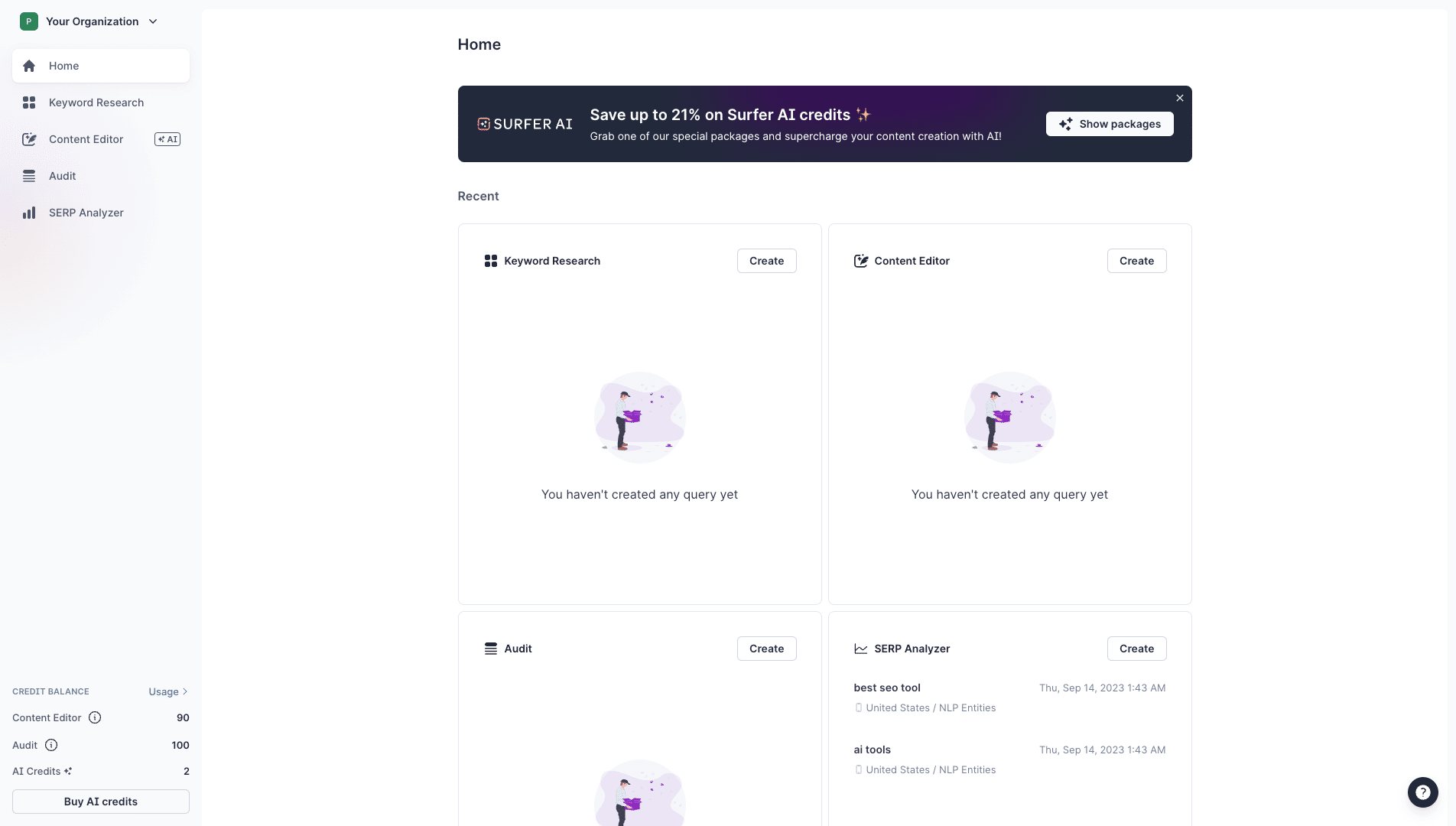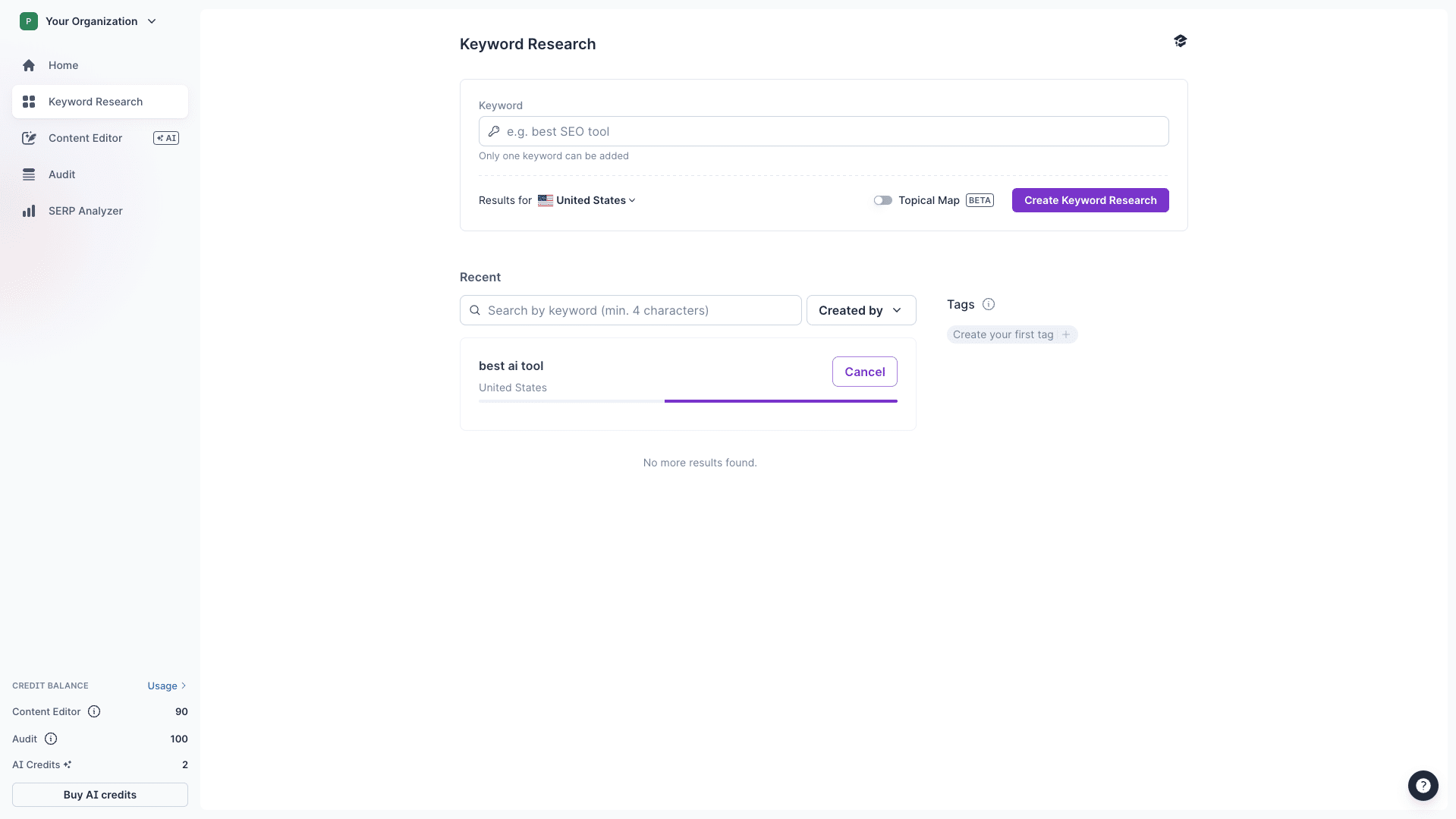 The Keyword Research feature will help you discover related (long tail) keywords groups based on your given input. In this example I enter a query for "best ai tool". This will take 1-3 minutes, and when it's done you can click on the given keyword to view the details (see screenshot below).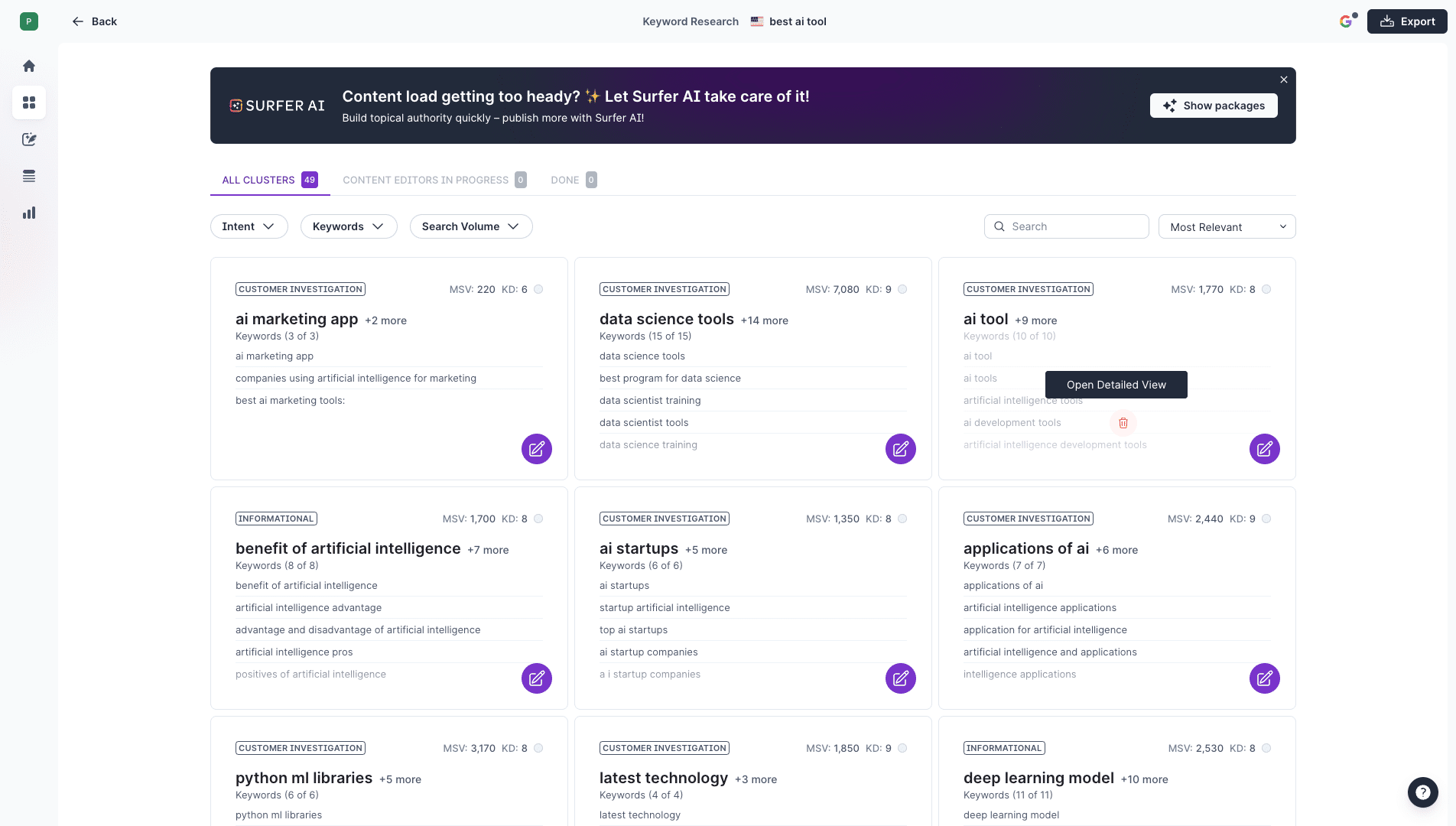 This pages gives you a very clear view of the related keyword groups at a glance.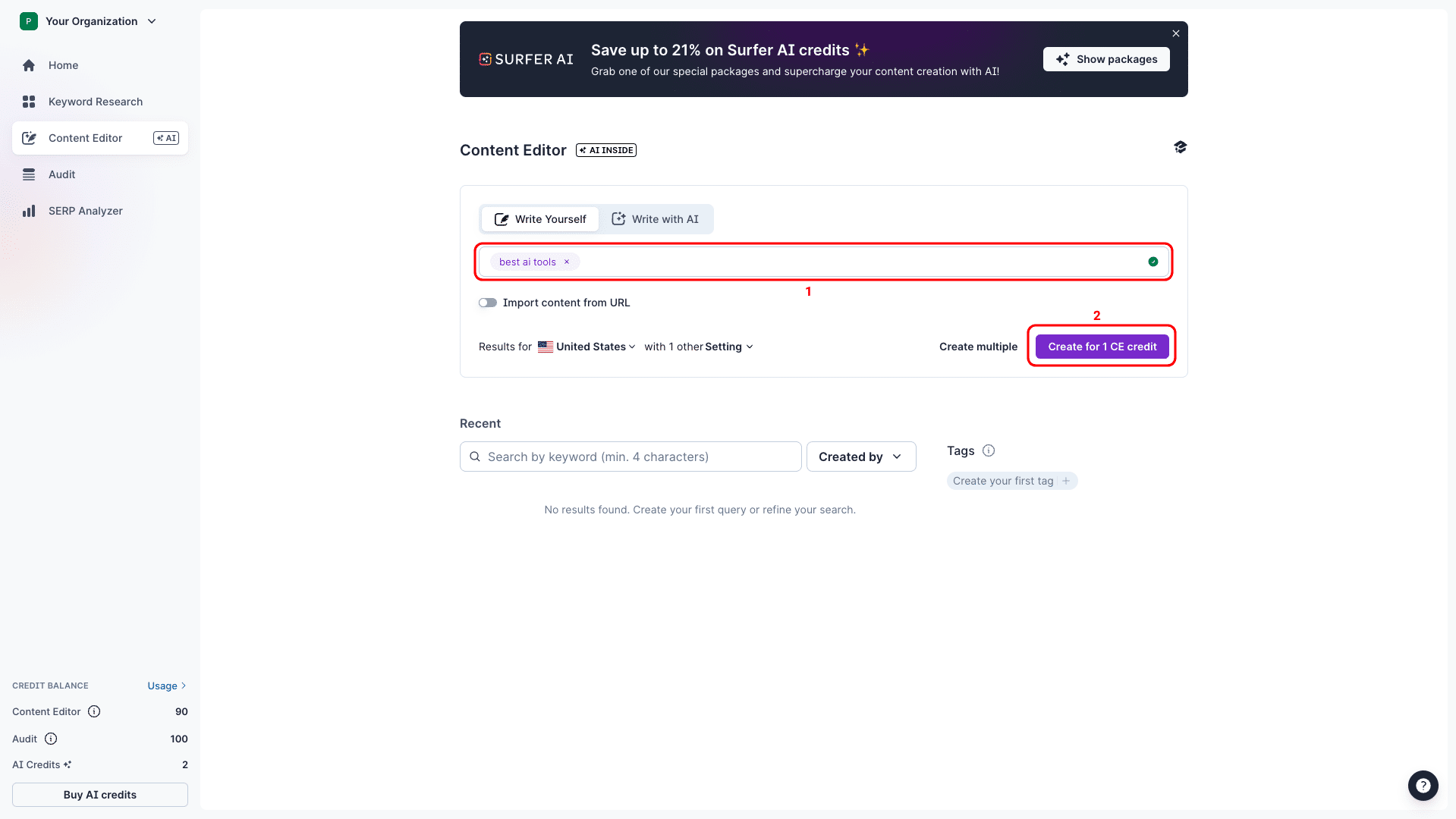 The Content Editor is Surfer SEO's flagship feature, let's put it to the test.
Step 1: In the keyword field I enter "best ai tools"
Step 2: Click on the button "Create for 1 CE credit"
Step 3: Wait 1-3 minutes and it is done

Step 4: Click on "best ai tools" in the "Recent" widget. You will see the editor page where you can click on "Insert outline" and it will quickly generate a complete outline like this: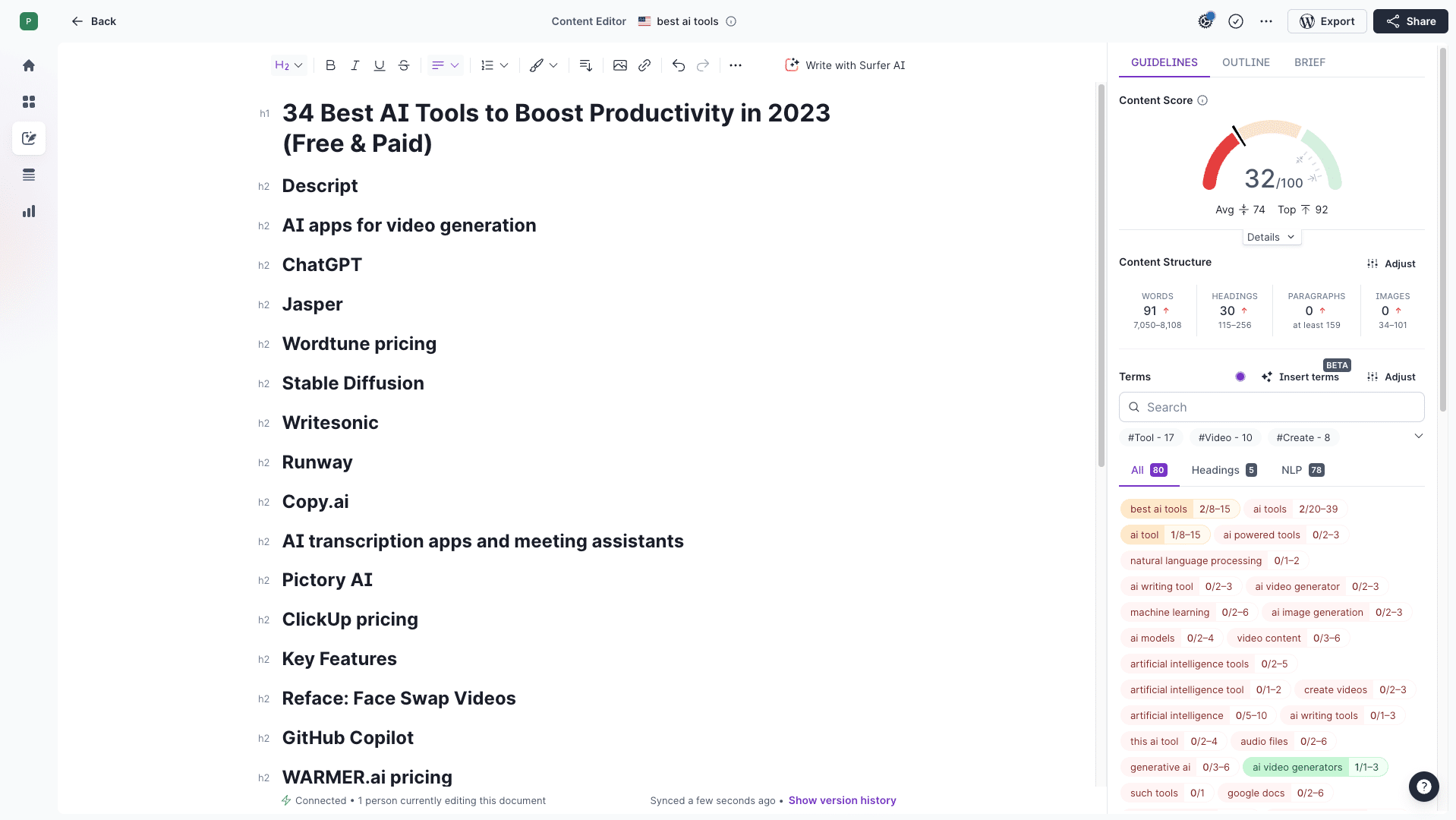 There's so many features within the Content Editor. You can always learn about it on their documentation. To access the documentation, click on the three dots in the top right corner. Then click on "Learn how to use Content Editor".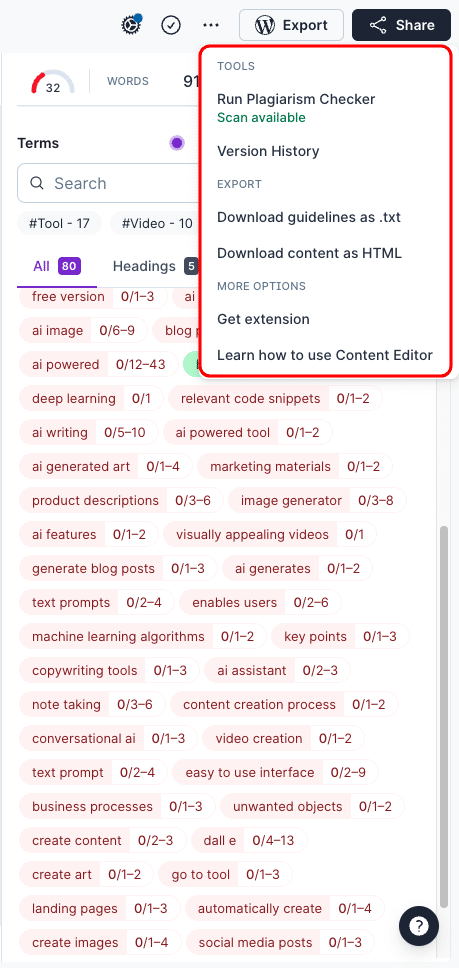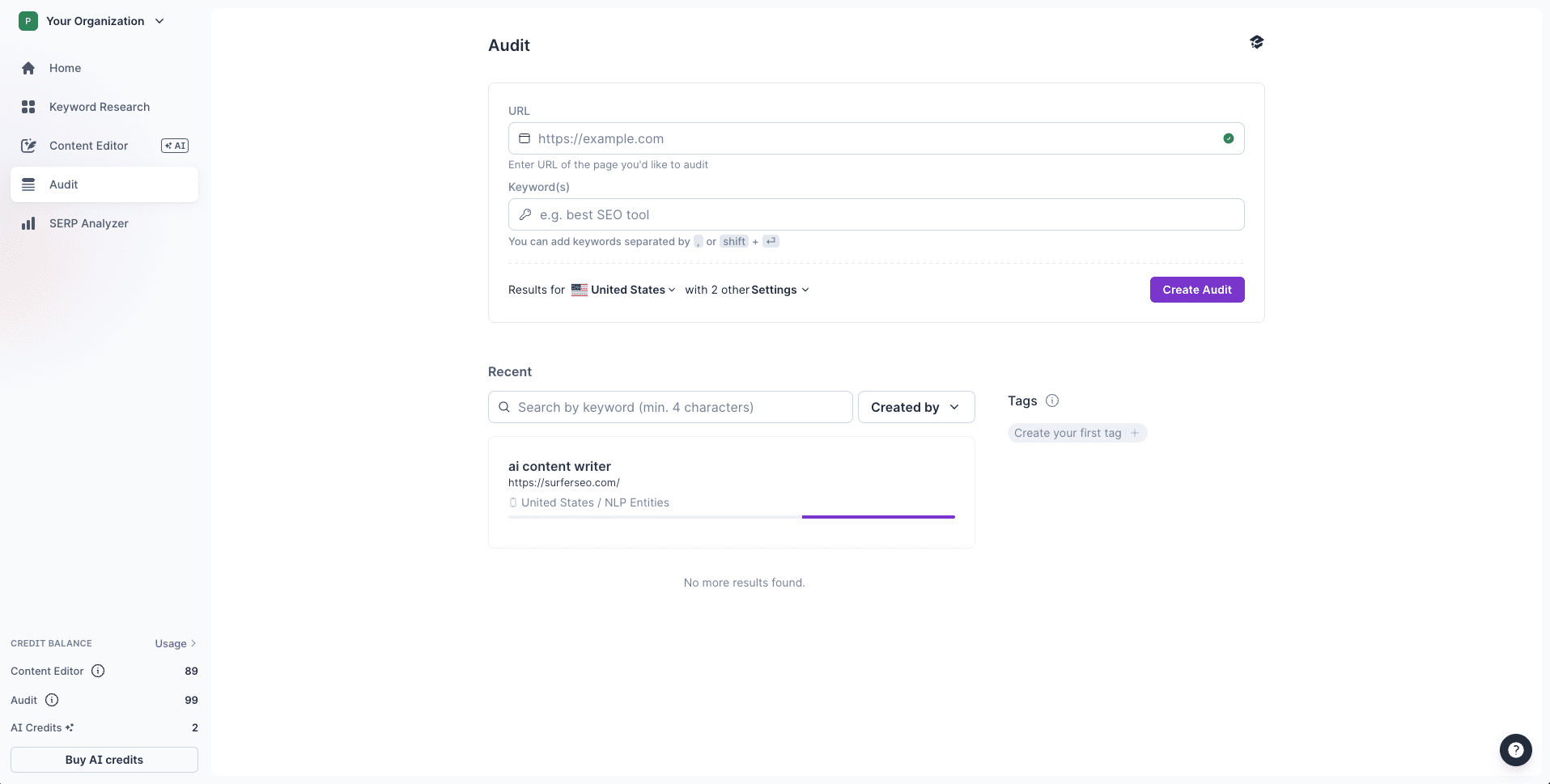 To use the audit, enter a URL, the keywords you would like to audit and then click on "Create Audit". Wait a few minutes and then click on the audit you've just created to view the details.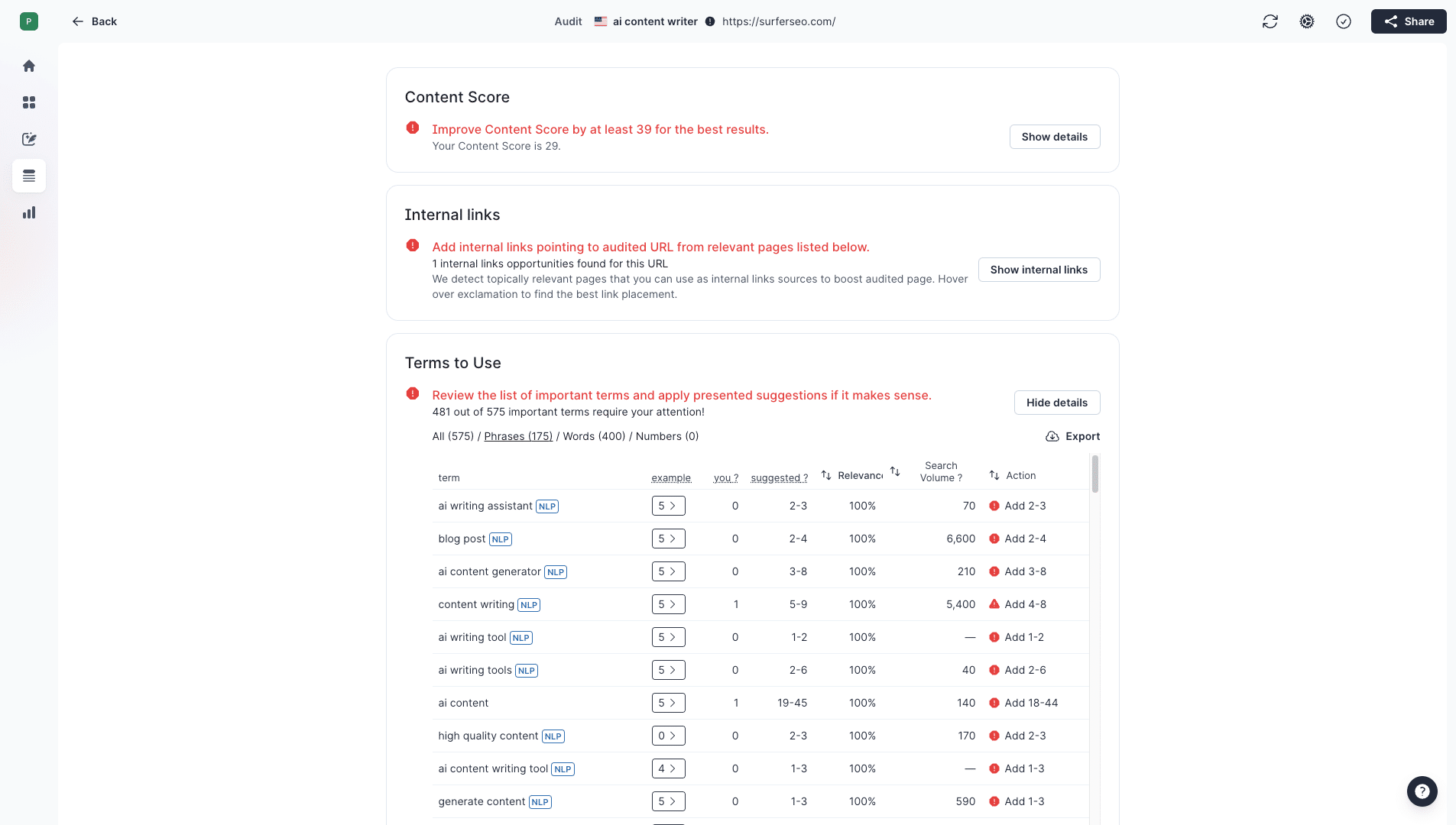 The audit report gives you detailed information plus tips on how to improve your ranking for given keyword on several aspects:
Content Score
Internal links
Terms to Use
Word count
Exact keywords
Partial keywords
Page structure
Title and meta description length
Time to first byte
Load time (ms)
Missing common backlinks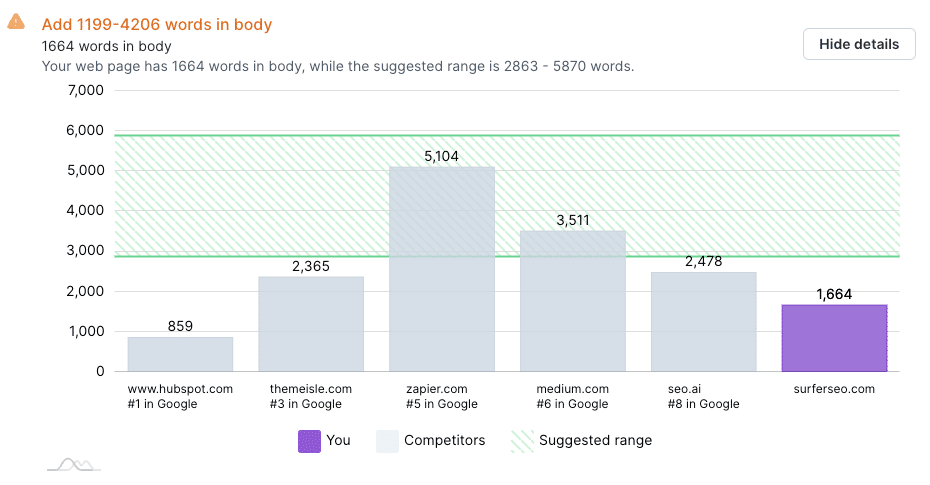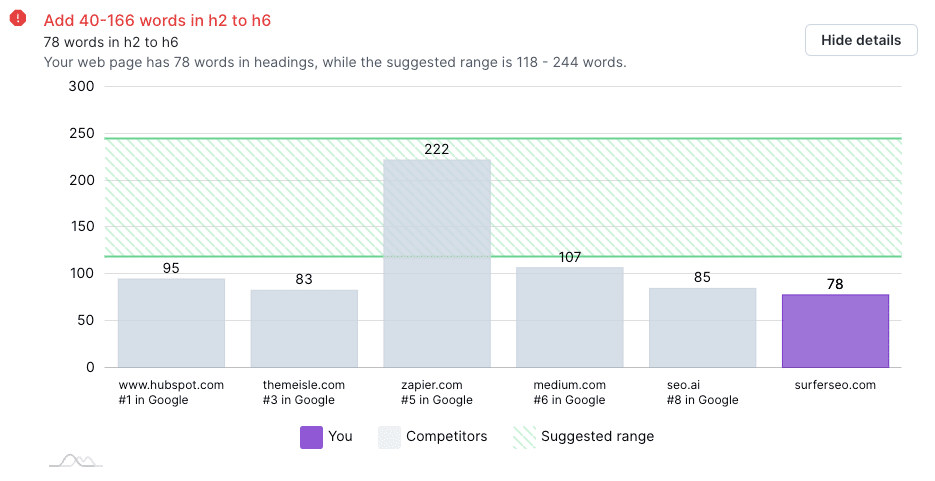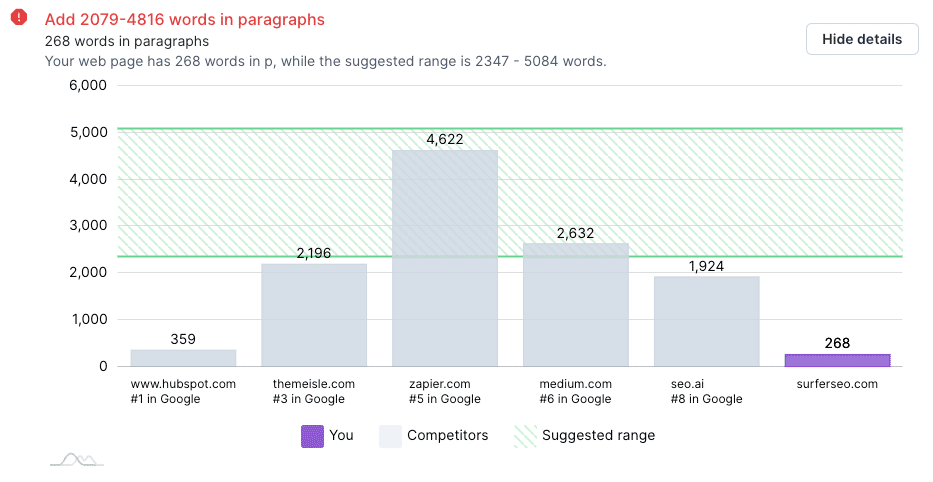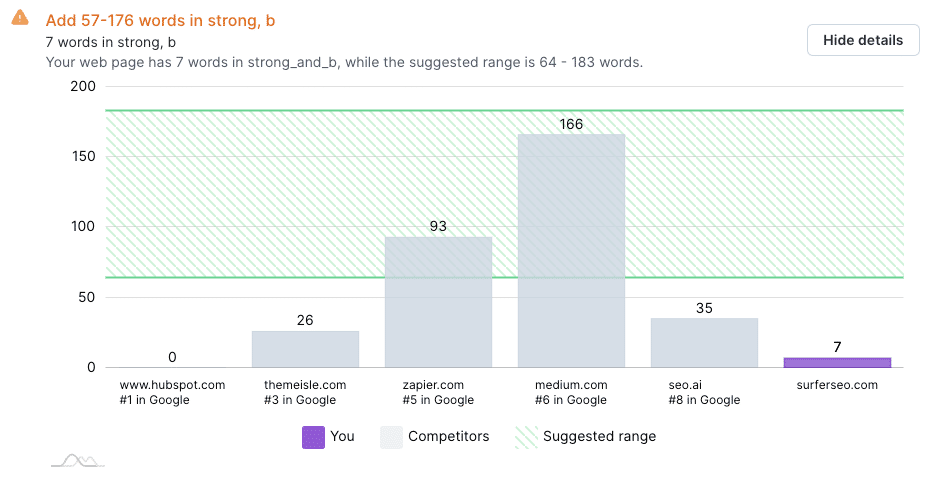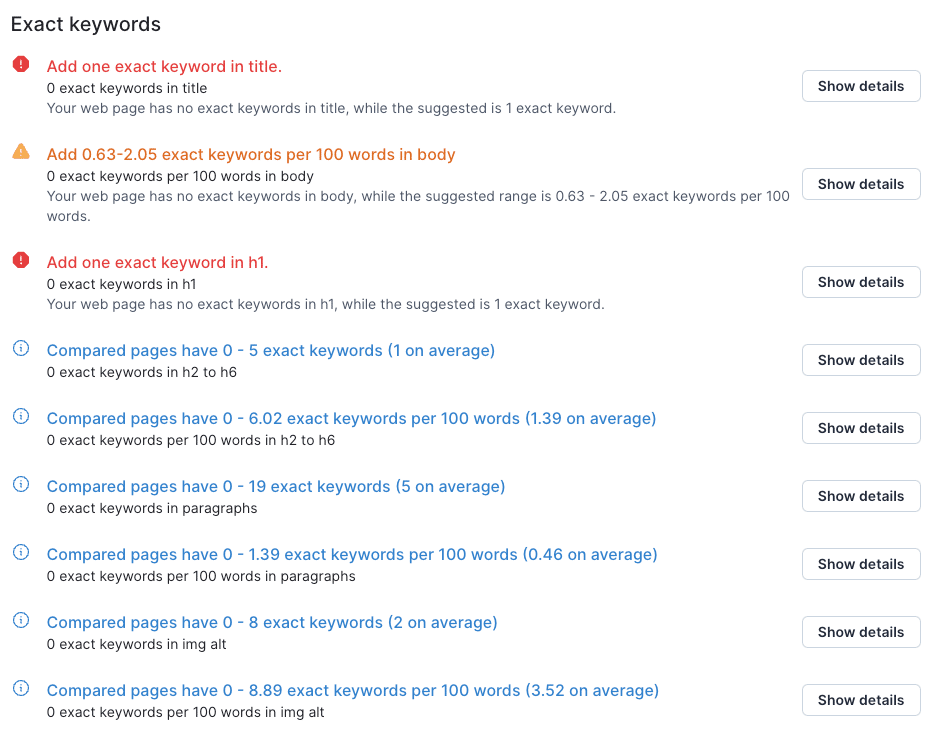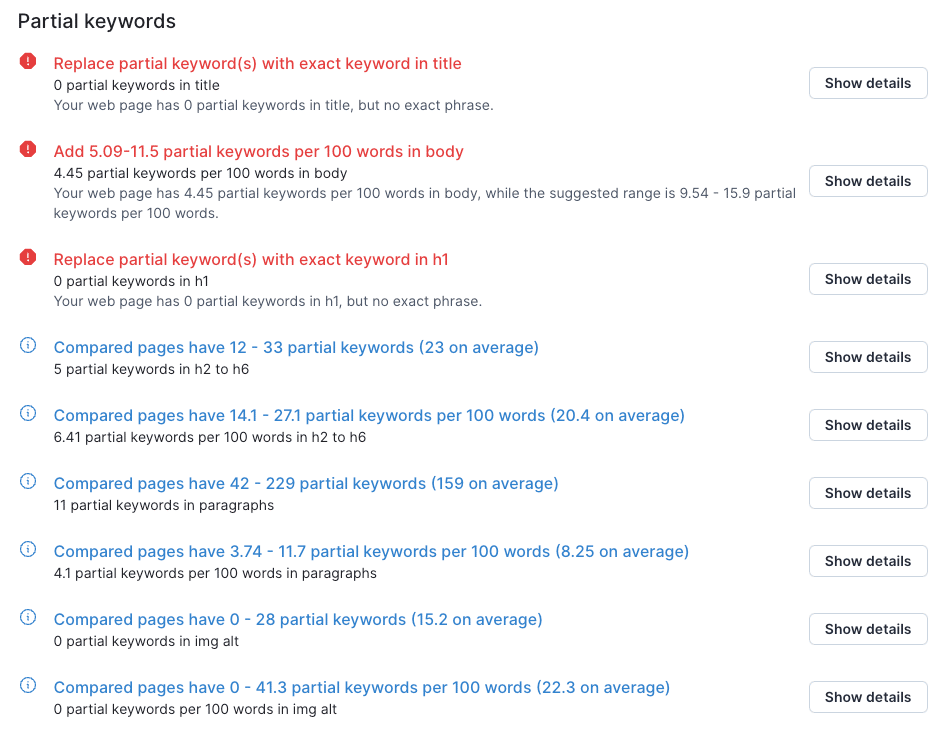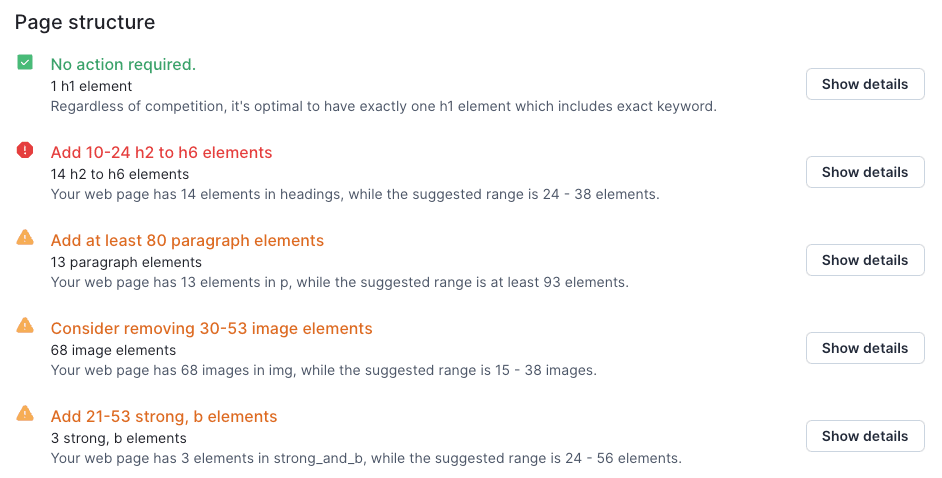 Title and meta description length



You can greatly improve your rankings just by following one or more of the suggested actions. Surfer SEO is a powerful assistant tool to help you commit to these actions.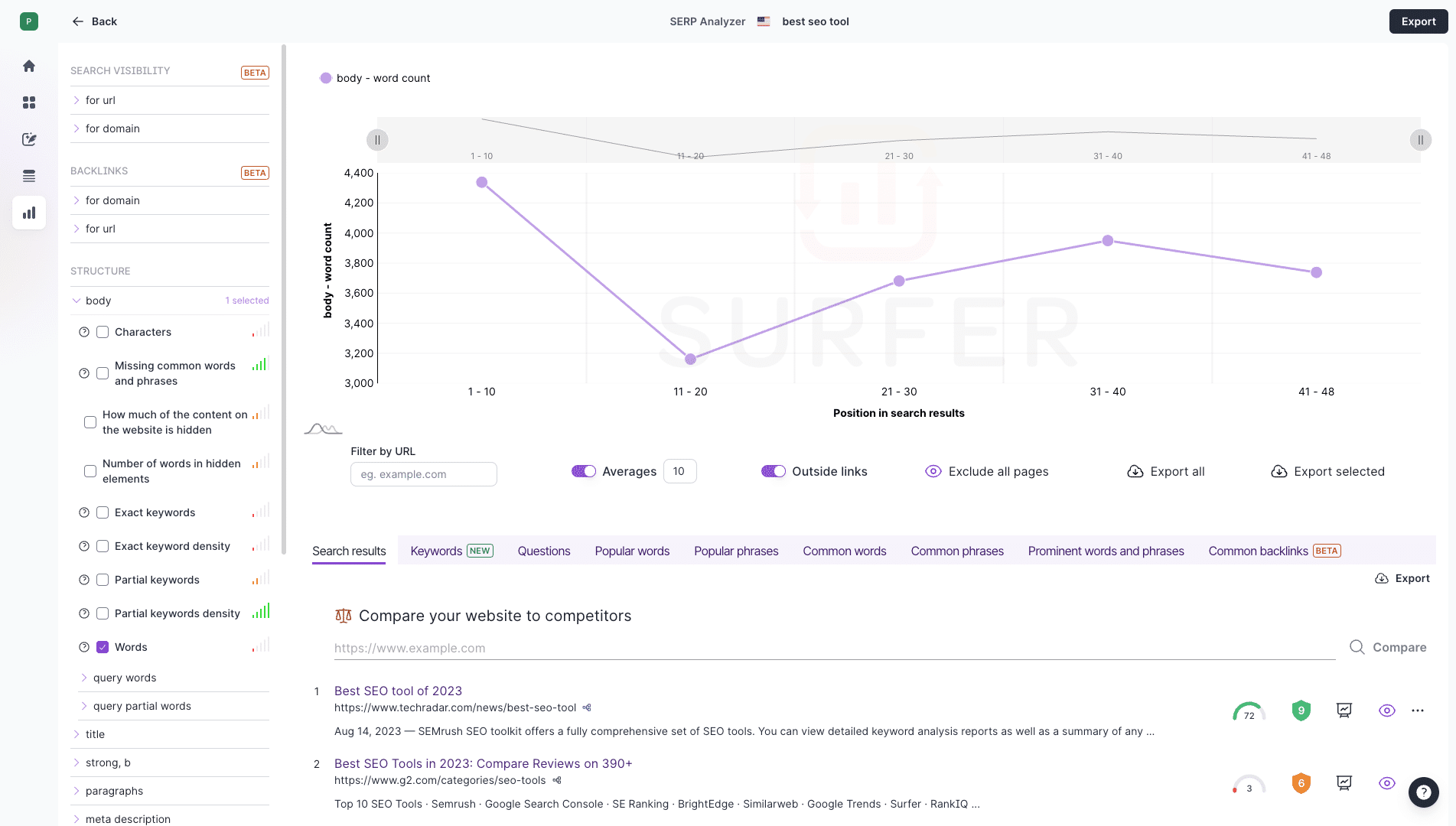 The SERP Analyzer allows you to dissect how the ranking pages are structured behind the scenes so you. It divides the information in the following sections:
Search Visibility: for url, for domain.
Backlinks: for domain, for url.
Structure: body, title, strong, paragraphs, meta description, img alt, headings, above the fold, hidden content, links, url.
Quality: page speed, structured data & score.
Media: images.
Clicking on any of the elements from within the sidebar will show the counts and averages of the SERP position groups in in the graph chart. This will help you analyze what your competitors are doing to rank and how you stack up against them.
There is so much data available and Surfer SEO divides the main content into 9 tabs, from left to right:

Search results: Compare your website to competitors.
Keywords: Keywords which URLS present in the SERP rank for.
Questions: View similar questions for chosen keywords
Popular words: View word count and density per URL.
Popular phrases: Phrases that are used on the page at least twice, sorted by number of occurences.
Common words: Words that are common among pages in the Top 10.
Common phrases: Phrases (up to 4 words) that are common among pages in Top 10.
Prominent words and phrases
Common backlinks: Common referring domains for TOP 20 pages
Now that you have the SERPS to compare, what actions can you do on each result?
Screenshot: View screenshot of the URL, this will take a few minutes and it will show the complete website as an image in mobile format (which results in a very long height).
Content Outline: instantly get the Content Outline of the selected result.
Paste HTML: Use this if the crawler couldn't get the HTML due to anti-crawling systems or if you want to manually override the content (due to it being refreshed). You can manually paste the HTML so that Surfer SEO can still parse the data for your report. When this is the case, "Paste HTML" is the only available action for that URL. As it needs the HTML to be able to extract the Content Outline and generate a screenshot. Which will be available after you've pasted the HTML.
Genius feature to be honest!
How To Quickly Extract Content Outline of SERPS
One of the powerful features is how quickly you can view the Content Outline for any result page by clicking on the three dots next to a result. Then click on "Content Outline". Instantly, it displays the Content Outline for the selected item which you can easily copy paste and use it for inspiration.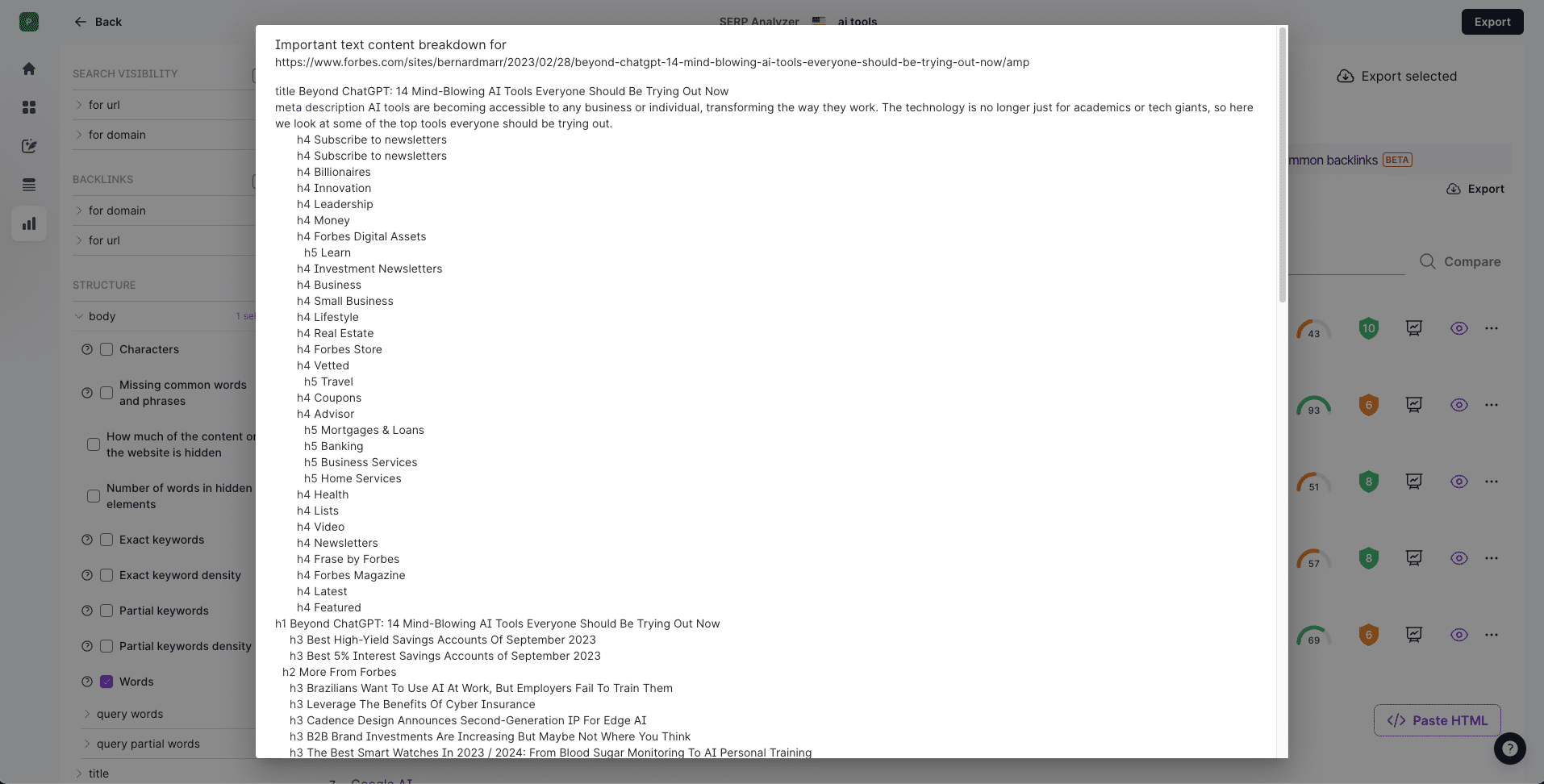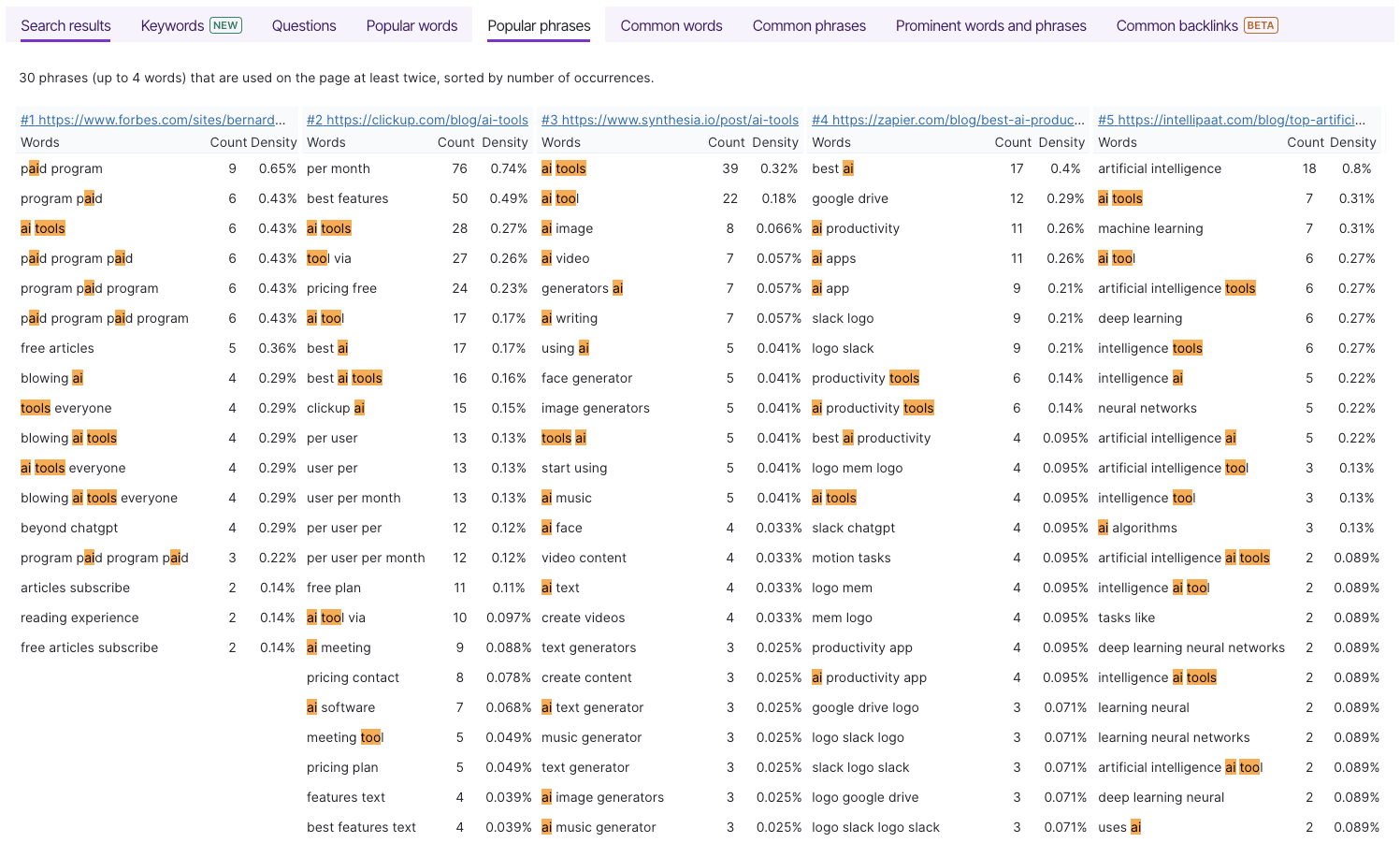 How should you interpret the common words section of Surfer SEO?
Frequency of Common Words: Pay attention to the frequency of common words or terms listed for each group of pages. In the first set, words like "day," "people," "tools," "ai," "users," and "tool" appear frequently, while in the second set, words like "questions," "platform," "tasks," "technology," "text," "way," "information," "data," and "work" are prevalent. The frequency of these words can offer initial insights into the themes or topics that are commonly addressed on the respective pages.
Comparison of Word Lists: It's essential to compare the lists. Note that the first set has 8 out of 10 pages, whereas the second set has 7 out of 10 pages containing these words. This suggests that the words in the first set may be more central or relevant to the overall theme or content of the pages in the search results.
Contextual Relevance: While the lists provide common words, you should consider the contextual relevance of these words to the search query or topic of interest. For instance, if the user's query was related to "technology tools," the presence of "tools" and "technology" in the second set may be particularly relevant.
Search Intent and User Engagement: Analyzing these common words can help gauge the likely search intent behind the pages that rank well. For instance, if the common words are related to user engagement, such as "users" and "questions," it may suggest that pages focusing on user interaction and answering questions are ranking prominently.
Content Strategy: This data can inform our user's content strategy. You may consider incorporating these common words or related terms into their content if they align with your website's goals and target audience. It can guide you in creating content that is more likely to rank well in search engine results.
Competitive Analysis: Lastly, you should compare your own content and keywords with the common words found in the top-ranking pages. Identifying gaps or areas where their content can be improved to align with these common terms can help them compete more effectively in your niche.
In summary, this data tells you about the prevalent words and themes on pages that rank well in search results. By understanding the frequency, context, and relevance of these words, you can make informed decisions about their content strategy, keyword optimization, and efforts to improve search engine rankings.

Prominent words and phrases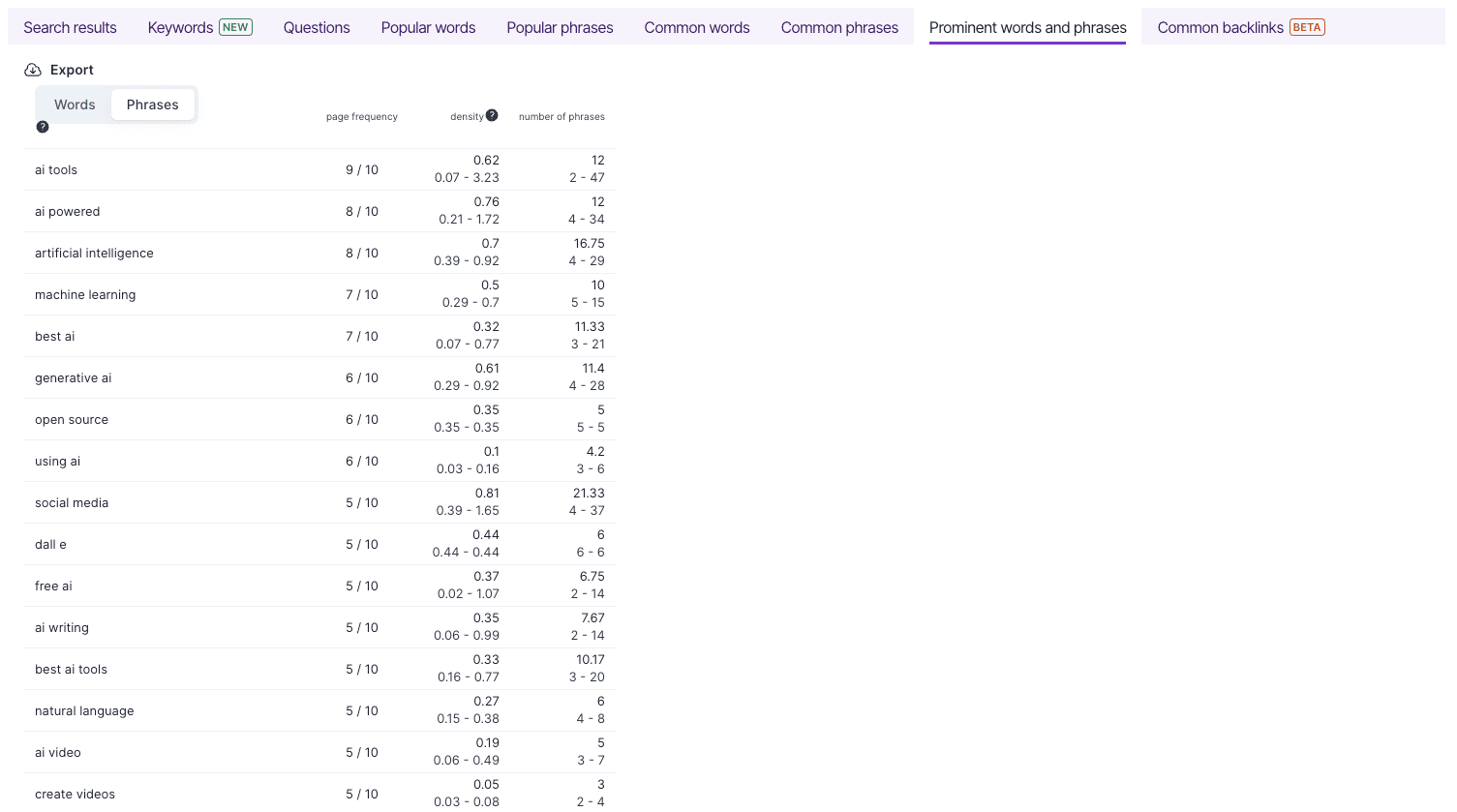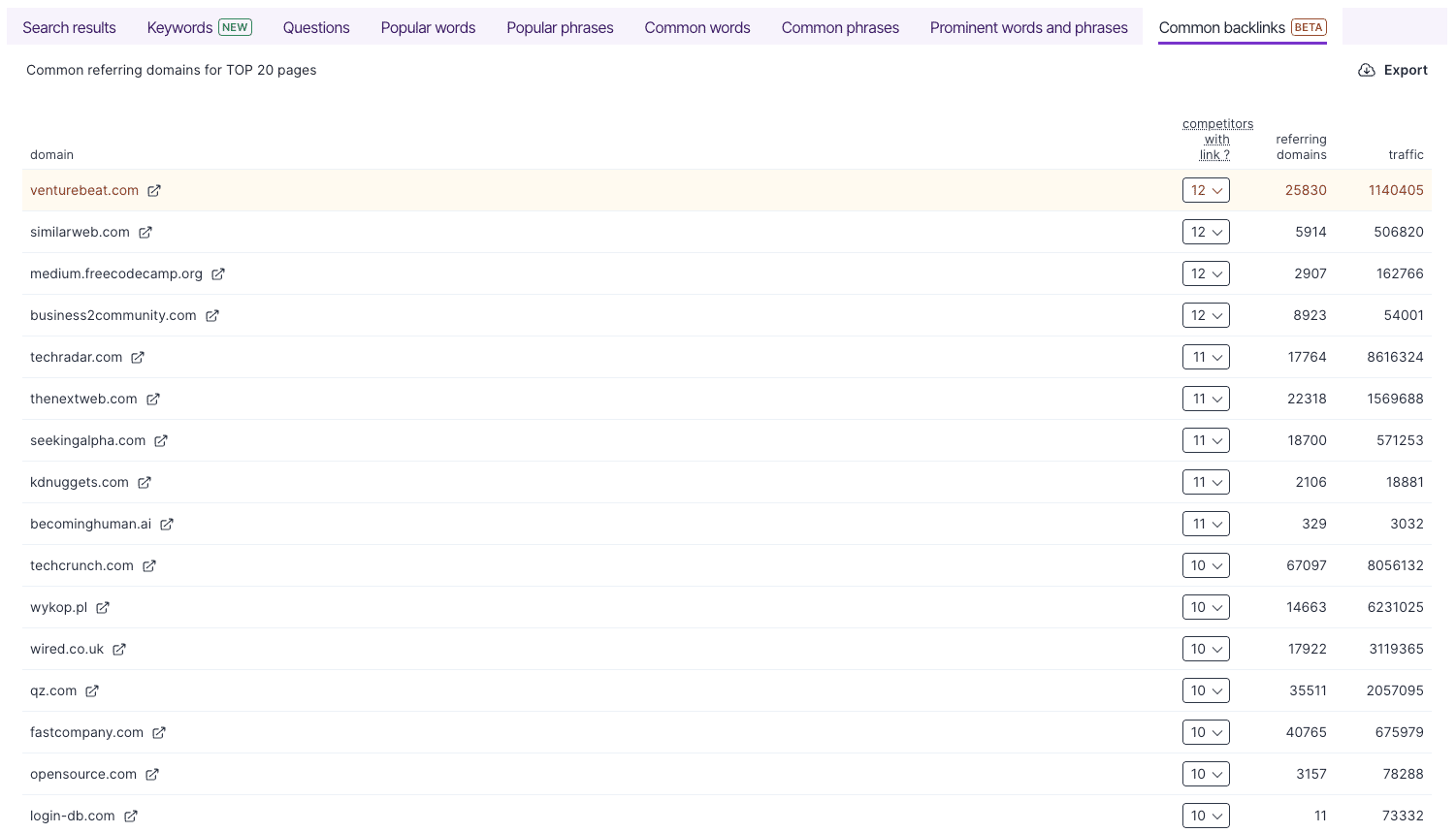 To access the API and White-label features, you have to contact support.
On of the great things at Surfer SEO is that they have an Academy section where you can learn many things about SEO and Content Marketing. Here's a few of the learning materials:
Introduction to Surfer
How to Use Keyword Research
How to Use Content Editor
Jasper + Surfer Training
SEO Writing Masterclass 2.0
Support - Getting Answers
If you have any questions there are tons of ways to get them answered if you click on the question mark icon in the top right bottom: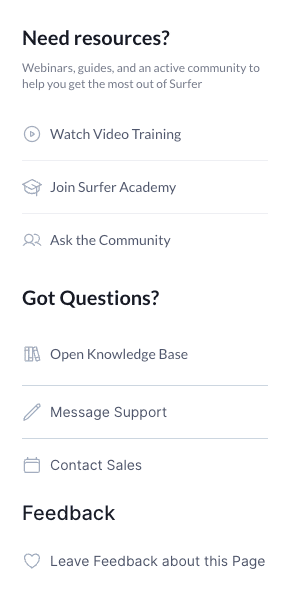 Watch Video Training
Join Surfer Academy
Ask the Community
Open Knowledge Base
Message Support
Contact Sales
Leave feedback about this Page
They also have a dozen of webinars which you have to pre-register for it to watch it. The first one that was available at time of writing was in two days. So it's not that they have webinars the whole day every day. Here's a few of the webinars:
Writing Content That Ranks High [Week 2]
The Secret to Long-Term Website Success [Week 3]
Building Content Strategy from the Ground Up [Week 1]
That's it folks! I hope you enjoyed the Surfer SEO Coupon Review as I spent a lot of time writing it. As you can see I've covered almost all the features and explained how you can get access to Surfer SEO for the lowest possible price. To sum it up:
7 Day Trial
Try any Surfer SEO plan with all the add-ons for 7 days, if you are not satisfied, you can request a refund. You can always come back at a later stage. However, I'm pretty sure you will like it and find out how powerful Surfer SEO is.
Save up to $600 on yearly
Switch to annual billing and you can save up to $600.
Surfer Coupon Codes - Do They Exist/Work?
Unfortunately, there are no genuine coupon codes that exist for Surfer SEO, otherwise you would have found it at our website AffiliateWeapons.com Any site that claims to have coupon codes for Surfer SEO are bogus. These coupon codes are fake and do not work. They only do this to trick you into clicking on their affiliate links and siphon off the referral commissions.
Special thanks
Say thank you to Surfer SEO for providing me with a free trial on the Max plan so I could write this extensive review with screenshots for you, the readers.
Good luck with Surfer SEO! Write fabulous content and I wish you improve your website rankings quickly!
Key Features
Keyword research: Find the best keywords to target.
On-page optimization: Optimize pages for search engines by editing titles, meta descriptions, headings, etc.
Site auditing: Crawl a site to find issues like broken links, duplicate content, etc.
Competitor analysis: Research competitors' keywords and optimize pages.
Rank tracking: Monitor keyword rankings in search engines.
Backlink analysis: See where sites are getting links from.
Google PageSpeed insights: Check page speed and performance.
XML sitemaps: Automatically generate a sitemap.
Link building: Suggest link building opportunities.
SEO reports: View reports on rankings, traffic, keywords, etc.
Powerful SEO Tools to Improve Your Search Rankings
Surfer SEO provides a robust set of SEO tools to help your website get found on search engines like Google. Our powerful platform makes search engine optimization accessible for businesses of all sizes.
Conduct Keyword Research to Target High-Value Terms
With Surfer SEO, you can quickly find low competition, high-value keywords that align with your business. Our keyword research tool analyzes search volume and difficulty to identify the best terms to target. Focusing on these terms can deliver more qualified organic traffic to your site.
Optimize On-page Elements for Higher Rankings
Optimizing your actual web pages is crucial for search engine visibility. Surfer SEO's on-page optimization features let you refine elements like page titles, meta descriptions, headings, content, and more. Improving these factors helps search engines better understand your pages.
Monitor and Improve Performance with SEO Analytics
In addition to optimization features, Surfer SEO provides detailed analytics to measure SEO success. Our rank tracking, site auditing, competitor analysis, and link building tools give insight into how your site is performing. Robust SEO reports then help you further improve and monitor rankings and traffic over time.
Pros
AI-powered
: Surfer SEO uses AI to help you optimize your content for search engines.
Easy to use
: Surfer SEO is easy to use, even for beginners.
Accurate
: Surfer SEO's AI is accurate, which means that it can help you to improve your website's search engine rankings.
Wide range of features
: Surfer SEO offers a wide range of features, including keyword research, content optimization, and backlink analysis.
SEO audit
: Surfer SEO can also perform an SEO audit on your website, which can help you to identify any areas that need improvement.
Free trial
: Surfer SEO offers a free trial, which allows you to try out the platform before you commit to a paid plan.
Cons
Can be expensive
: Surfer SEO's paid plans can be expensive, especially for businesses that need to use the platform on a large scale.
Not as many features as some alternatives
: Surfer SEO does not have as many features as some alternatives, such as SEMrush or Ahrefs.
Can be overwhelming
: Surfer SEO's interface can be overwhelming for some users.
Why should you use Surfer SEO?
Keyword research tool - Helps find low competition, high volume keywords to target.
On-page optimization - Optimizes page titles, meta descriptions, headings and content for better rankings.
Link building - Helps build high quality backlinks from relevant websites.
Google Analytics - Tracks website traffic and provides insights for optimization.
Rank tracking - Monitors website rankings for targeted keywords.
What are the key advantages of using Surfer SEO to crush your competitors?
Powerful Link Building Tools: Surfer SEO has tools to help you build high-quality backlinks from authoritative sites.
SEO Auditing: It scans your site and competitors to identify issues hurting your rankings.
Keyword Research: Find low competition keywords that are easier to rank for.
On-Page Optimization: Auto-optimize pages for keywords with AI content intelligence.
Rank Tracking: See your keyword rankings improve over time.
What types of people use Surfer SEO?
TL;DR
Businesses that want to improve their search engine rankings and organic traffic
Agencies that manage SEO for multiple clients and need an efficient workflow
Website owners that want a user-friendly SEO platform to optimize their own site
SEO professionals that need advanced tools and customization for managing SEO campaigns
Businesses that want to improve their search engine rankings and organic traffic can benefit greatly from using an SEO software platform. With advanced tools to research keywords, analyze the site, identify optimization opportunities, and track progress, a business can take control of its own SEO strategy. The right software provides user-friendly reports and recommendations that make it easy for business owners to implement changes and see results. This allows a business to boost its website visibility in search engines like Google and drive more qualified traffic to their site, without needing to hire an expensive agency.
Agencies that manage SEO for multiple clients and need an efficient workflow can hugely improve productivity with SEO software. The ability to manage all client accounts from a centralized platform, with features like bulk editing, makes it easy to optimize sites and report to clients. Automated tracking, reporting and alert tools allow agencies to monitor client sites and campaigns efficiently. With custom workflows and user permission controls, agencies can streamline processes and collaborate across teams and clients. SEO software provides the advanced capabilities an agency needs to deliver results for clients quickly and provide excellent customer service.
Website owners that want a user-friendly SEO platform to optimize their own site are ideal users for SEO software. Even with little technical expertise, DIY users can benefit from the intuitive interface and easy-to-follow recommendations of a well-designed platform. Without needing to understand the advanced details of SEO, site owners can use the software to quickly perform technical optimizations, research and target strategic keywords, and gain insights from reports to improve website content. The ability to track website analytics and monitor keyword rankings allows site owners to measure the impact of their efforts. For those managing their own sites, SEO software makes search engine optimization simple and accessible.
SEO professionals that need advanced tools and customization for managing SEO campaigns can accomplish much more with a robust SEO software solution. With in-depth data and analysis, APIs for integrating other platforms, and customization options, SEO experts can customize campaigns to fit each client's needs. The ability to research keywords efficiently, track rankings globally, monitor backlinks/competitors, identify issues, and demonstrate results are all essential for comprehensive SEO management. SEO software provides the specialized tools and granular data needed for experts to maximize their search optimization strategy and reporting.
What led to the development of Surfer SEO and what it aims to accomplish.
Surfer SEO is a search engine optimization (SEO) software company founded in 2011.
The company's main product is its SEO software platform designed to help businesses improve their organic search rankings and increase website traffic.
Key features of Surfer SEO's software include keyword research, on-page optimization, link building, and rank tracking.
The platform aims to make SEO easier for small and medium businesses with its user-friendly interface and automation features.
Surfer SEO markets its software as an all-in-one SEO solution to help companies boost their search visibility and grow their online presence.
Best Surfer SEO alternatives in 2023
Yoast SEO - Popular WordPress SEO plugin with a focus on optimizing content for search engines.
Rank Math SEO - WordPress SEO plugin that provides a dashboard to monitor site's SEO health.
The SEO Framework - Lightweight WordPress SEO plugin with a minimal interface.
All in One SEO Pack - Long-standing WordPress SEO plugin with advanced configuration options.
SEOPress - SEO plugin built specifically for WordPress with advanced schema markup support.
Surfer SEO Semantics
| Category | Type | Key Features | Descriptors |
| --- | --- | --- | --- |
| SEO | Tool | Keyword research, on-page optimization, site auditing, competitor analysis, rank tracking, backlink analysis, page speed insights, sitemaps, link building | SEO optimization, site audit, ranks, backlinks, speed, maps, links |
🎁 Supercharge Your Success with Surfer SEO - Sign Up for a Free 7 Day Trial!
FAQ About Surfer SEO Coupons & Deals
How many Surfer SEO coupons can I claim?
💡 You can only enter 1 Surfer SEO coupon per account. Our coupons can be redeemed for an unlimited amount unless specified otherwise, so you can share it with your friends and they will also get the discount or free trial.
Do you have a Surfer SEO coupon/deal for free credits or a trial?
✅ Yes, luckily we have arranged some Surfer SEO deals for a free trial/freemium account.
Check them out below:
Is there an unlimited plan available for Surfer SEO?
🚫 Unfortunately, Surfer SEO does not have an unlimited plan. However, here are some other tools that do have an Unlimited Plan:
Does Surfer SEO have a yearly discount deal?
✅ Yes, you can save money on Surfer SEO when you subscribe to a yearly plan.
Take a look right here:
Surfer SEO Lifetime deal, does it exist?
🚫 Unfortunately, Surfer SEO does not have any lifetime deal. Any site that claims to have it are bogus. Any Surfer SEO lifetime deal promotion is fake and dishonest sites use it as a bait to get you clicking on their affiliate links.
Is there any special offer or bonus when I sign up for Surfer SEO?
🚫 Unfortunately, Surfer SEO does not have a promotion when you sign up.
Does Surfer SEO have a special promotion for students?
🚫 Unfortunately, Surfer SEO does not have a promotion for students.
Is there an expiry date on the Surfer SEO coupon?
💡 With the exception of season offers, all of our promo deals and coupons for Surfer SEO are available for an unlimited amount of time and do not expire.
Does Surfer SEO offer a money back guarantee?
✅ Yes, Surfer SEO is one of the few tools that offer a money back guarantee. However, some restrictions might apply.
Learn more about it here:
How many days is the Surfer SEO trial valid?
💡 You can enjoy the Surfer SEO trial for 7 days. You can upgrade anytime to a paid plan while still in the Surfer SEO trial.
Can I use the Surfer SEO coupon without entering my credit card details?
✅ Yes, you do not need to enter your payment details to take advantage of the free credits/trial.
Am I allowed to share the Surfer SEO coupon with my friend?
✅ Yes, you can share the Surfer SEO coupon with anyone you like and as many times as you want. It is allowed and the coupon is not exclusively for one person.
Can I pay with Paypal for a Surfer SEO subscription?
🚫 No, unfortunately Surfer SEO does not accept PayPal payments.
How can I confirm that the Surfer SEO coupon is valid, without having to pay?
💡 When you enter the coupon, you instantly see a confirmation that it is valid. At this stage, you do not have to enter any payment details. Sometimes, it will immediately show the discount on the page when you open one of our special offer links.
Can I combine Surfer SEO coupons to get more discounts?
🚫 No, you can only use one Surfer SEO coupon at a time. However, you can stack the coupon on a yearly discount to save even more on Surfer SEO.
Does Surfer SEO have an affiliate program?
✅ Yes,you can create an account with Surfer SEO, then verify your email. Once you are logged in, look for the "Affiliate Program" website. Sometimes it's called "Referral Program" or "Partner Program".
I have a question about Surfer SEO, can you help me?
✅ Sure, just submit your question on our contact page and we will get back to you as soon as possible.
Is it possible to submit a coupon or special promotion for Surfer SEO?
✅ Definitely, you can use the form below to submit your coupon for Surfer SEO. We kindly request you to submit only valid coupons. If you are the site owner and would like to be listed with your app/service, you can use the contact form and we'll be in touch with you.
🎁 Get Your Surfer SEO Annual Plan Now and Save 23% on Your Purchase