Sellerboard Coupon - ✅ 100% Verified Deals September 2023
Sellerboard is a robust software solution tailor-made for Amazon sellers. It equips sellers with invaluable insights into their Amazon endeavors, delivering up-to-the-minute analytics encompassing sales, profits, fees, and other essential metrics. Utilizing Sellerboard, sellers gain the ability to make well-informed choices, enhance their operational efficiency, and unlock their full potential for success within the Amazon marketplace.
Use our exclusive SellerBoard coupon "AFFILIATEWEAPONS" to get 30 days extra on your
30-Day SellerBoard Trial for a total of 60 days!
Today's coupons and deals on Sellerboard valid from September till October 2023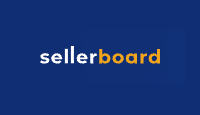 Join the Sellerboard Affiliate Program by creating an a
...More
Join the Sellerboard Affiliate Program by creating an account, then:
Verify your email address, and login
Go to the "Affiliate Program" which you can find in the footer links or under "Account" profile.
If you can't find it try looking for "Referral Program" or "Partner Program"
Less
Send this coupon to an email
This is not a email subscription service. Your email (or your friend's email) will only be used to send this coupon.
Let other know how much you saved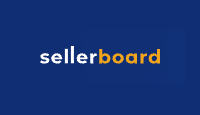 Join the Sellerboard Affiliate Program by creating an account, then:
Verify your email address, and login
Go to the "Affiliate Program" which you can find in the footer links or under "Account" profile.
If you can't find it try looking for "Referral Program" or "Partner Program"
The Sellerboard Affiliate Program is currrenlty open for registration
Earn Commissions with the Sellerboard Affiliate Program
Expires: N/A
Submitted: 11 months ago
---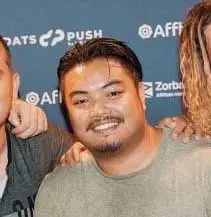 by Pathaksa Tongpitak
Sellerboard Coupon Review 2023
Welcome to our comprehensive and detailed Sellerboard review. Inside, you'll find screenshots showcasing all its features, along with exclusive coupons and special offers as a bonus. Learn everything you need to know about Sellerboard, including its functions, why it's essential for your online affiliate marketing campaigns, and how to make the most of the Sellerboard coupon.
SellerBoard has four paid plans: Standard, Professional, Business and Enterprise.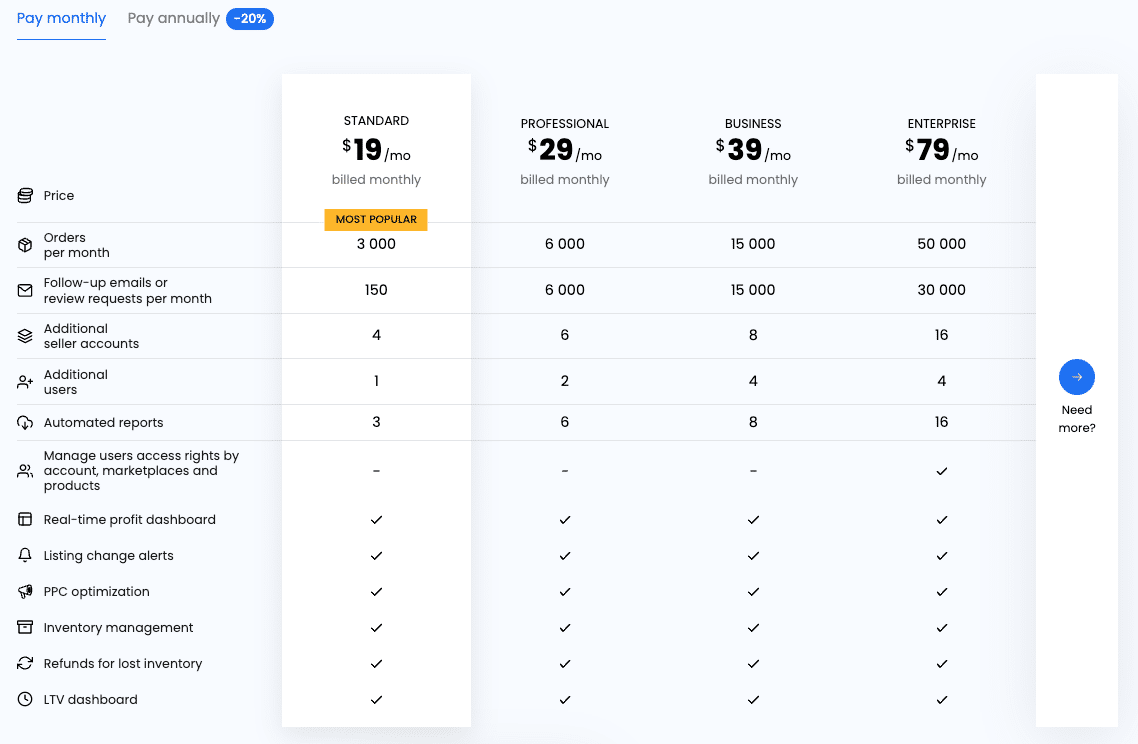 Save 20% on SellerBoard when switching to yearly billing and save up to $192 per year
| | | | |
| --- | --- | --- | --- |
| Plan | Monthly Billing | Yearly Billing | Savings |
| Standard | $19/mo | $15/mo | $4/mo, $48 total savings per year |
| Professional | $29/mo | $23/mo | $6/mo, $72 total savings per year |
| Business | $39/mo | $31/mo | $8/mo, $92 total savings per year |
| Enterprise | $79/mo | $63/mo | $16/mo, $192 total savings per year |
Contact support and mention the SellerBoard coupon "AFFILIATEWEAPONS" to get 30 days extra on trial on top of the regular 30 days for a total of 60 days.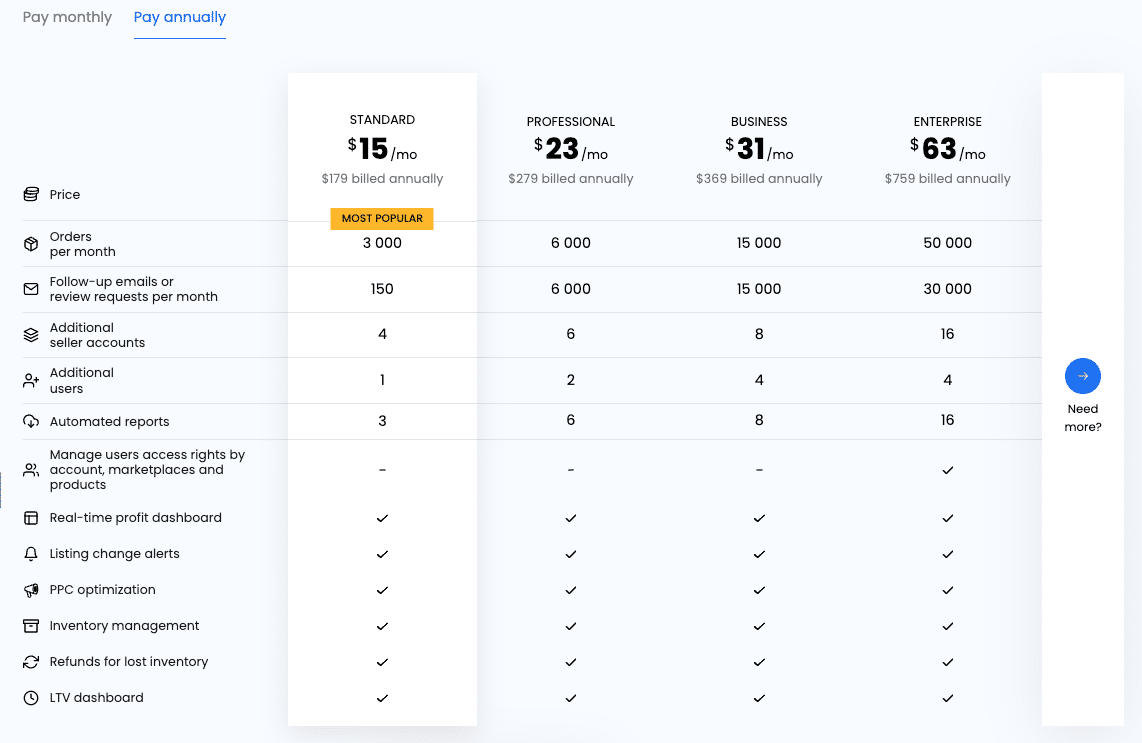 Key Features
Keyword tracking: Track keywords and get alerts when there are ranking changes
Keyword ranking: See your keywords rankings and history across Amazon
Competitor tracking: Track competitors' keywords, rankings and product updates
Product tracking: Get alerts on reviews, stock levels, buy box status and more
Sales analytics: View daily and hourly sales reports to identify trends
Listing optimization: Get tips on improving titles, descriptions, images and more
Review monitoring: Track your product reviews and get alerts on new reviews
Inventory management: Replenish stock and avoid overselling with restock alerts
Advertising analytics: Monitor your Sponsored Ads performance and keywords
Customer analytics: Analyze customers and sales by country, device, referral etc.
Comprehensive Keyword Tracking
With Sellerboard, sellers can track keywords and get alerts for ranking changes across Amazon. The keyword tracking feature allows you to monitor your most important keywords, ensuring you don't miss out on optimization opportunities or drop in rankings. You'll have the data you need to make informed decisions to improve visibility and increase sales.
In-Depth Competitor Analysis
Sellerboard makes it easy to track and analyze your competitors through keyword and product tracking. You can identify the top performing keywords for your competitor's listings to find new opportunities. The product tracking alerts you to any changes your competitors make, like price changes, product updates, and new reviews. With this level of competitor intel, you can benchmark your performance and win the buy box.
Actionable Sales and Review Insights
The sales and review analytics in Sellerboard provide powerful insights to inform your Amazon selling strategy. You can view granular sales reports to spot trends and identify peak times. Combined with the review monitoring, you can see how promotions, new product listings and reviews influence your sales. These insights help you make data-driven decisions to boost conversions and sales.
Optimized Listings and Inventory
Sellerboard helps you create high-converting Amazon product listings with its listing optimization tips. You'll know exactly how to improve titles, descriptions, images and more. With restock alerts and inventory management, you can avoid stock-outs and returns. Optimized listings and sufficient inventory leads to higher sales and conversion rates.
Pros
Better data insights: Sellerboard provides detailed sales and revenue reports to help sellers make data-driven decisions.
Inventory management: It helps manage inventory levels and avoid stockouts or overstock situations.
Listing optimization: The tool suggests ways to optimize product listings for higher conversion rates.
Competitive pricing: Sellerboard analyzes competitors' pricing so sellers can adjust theirs accordingly.
Customer support: It has robust customer support options like live chat, email, and phone.
Cons
Steep learning curve: Sellerboard has a complex interface and extensive feature set that can take time to learn and master.
Expensive: Sellerboard has premium plans that can get quite costly, especially for smaller businesses on a tight budget.
Data discrepancies: There can sometimes be inconsistencies between the data in Sellerboard and the data in Amazon seller central.
Technical issues: Like any software, Sellerboard can suffer from bugs, glitches and downtime that disrupt usage.
Customer support lacks: The customer service for Sellerboard has been criticized as slow, disjointed and unreliable.
Steep learning curve: Sellerboard has a complex interface and extensive feature set that can take time to learn and master.
Why should you use Sellerboard?
Efficient Listing Management: Sellerboard allows you to manage all your Amazon listings in one place, including checking for errors, updating prices, and editing listings.
Inventory Sync: Sellerboard keeps your Amazon inventory synced with other sales channels like Shopify and Ebay so you don't run out of stock.
Sales & Profit Tracking: You can view detailed sales reports and monitor your profits across multiple sales channels through Sellerboard's analytics.
Automatic Pricing: Sellerboard can automatically adjust your Amazon prices based on competitors' pricing and your profit goals.
Keyword Optimization: The software provides keyword research and tracking to help optimize your listings for discoverability.
What are the key advantages of using Sellerboard to crush your competitors?
Detailed Competitor Tracking - Track all key metrics for your top competitors to inform pricing and product strategy.
Keyword Monitoring - Get alerts when competitors change keywords or launch new products.
Sales Estimates - Estimate competitor sales and revenue to benchmark performance.
Rank Tracking - Monitor product rankings across Amazon and optimize accordingly.
Review Analysis - Analyze competitor reviews to improve products and listings.
What types of people use Sellerboard?
TL;DR
Amazon sellers who want to manage their listings and inventory more efficiently
eBay sellers who want automation and analytics for their eBay store
Etsy sellers who want to optimize their Etsy shop and listings
Multichannel sellers who sell on multiple marketplaces and want a centralized platform to manage them all
Amazon sellers are increasingly looking for ways to streamline and optimize their selling processes as they grow their businesses. Being able to efficiently manage listings and inventory across a large catalog of products is crucial for Amazon sellers to save time and maximize sales. Seller tools that help automate certain tasks like repricing products, updating listings in bulk, and syncing inventory across Amazon's fulfillment network can provide major efficiency gains for Amazon sellers with hundreds or thousands of SKUs.
eBay sellers know that running an eBay store successfully requires diligent oversight and careful optimization. As an eBay seller's store grows, manually tracking listings and sales analytics becomes highly tedious. Seller tools that provide automated analytics and bulk listing management for eBay save sellers time while helping them refine pricing strategies, manage out of stock inventory, and ultimately sell more on eBay.
Etsy shop owners have unique needs when it comes to marketing their handmade and vintage items, optimizing listings for Etsy search, and managing orders. Etsy-focused seller tools can streamline these processes through listing templates, order tracking, and tools to understand shop analytics. This allows creative entrepreneurs to spend less time on operations and more time creating and running their Etsy shops.
For sellers who distribute their products across multiple ecommerce channels like Amazon, eBay, Etsy, and their own online store, managing all of these marketplaces can be highly complex. Multichannel commerce management tools enable sellers to centralize inventory, orders, and product data across all their sales channels in one unified hub. This capability provides tremendous time savings and oversight for sellers as their sales volume grows across multiple platforms.
What led to the development of Sellerboard and what it aims to accomplish.
Sellerboard is a sales analytics and optimization platform for Amazon sellers.
It was founded in 2018 and is based in Berlin, Germany.
Sellerboard helps Amazon sellers track their sales performance, monitor reviews and feedback, analyze competitors, manage PPC campaigns, and optimize product listings.
The platform integrates data from multiple sources to provide insights and suggestions to boost Amazon sales and revenue.
Key features include sales tracking, review management, listings optimizer, advertising analytics, and competitor research tools.
Best Sellerboard alternatives in 2023
Helium 10 - All-in-one software suite for Amazon sellers with tools for product research, listing optimization, rank tracking, and more.
Jungle Scout - Leading software for product research, estimating sales, managing listings, and analyzing data.
AMZScout - Lightweight extension and web app for quickly analyzing products and estimating sales.
Viral Launch - Robust platform with tools for listing optimization, rank tracking, split testing, and market intelligence.
Jumpsend - Specialized software focused on email and social media marketing for Amazon sellers.
Sellerboard Semantics
| Category | Type | Key Features | Descriptors |
| --- | --- | --- | --- |
| E-commerce Software | SaaS | Keyword tracking, Keyword ranking, Competitor tracking, Product tracking, Review monitoring, Inventory management | Analytics, Monitoring, Optimization |
🎁 Experience Innovation with Sellerboard - Sign Up for a Free 60 Day Trial!
FAQ About Sellerboard Coupons & Deals
How many Sellerboard coupons can I claim?
💡 You can only enter 1 Sellerboard coupon per account. Our coupons can be redeemed for an unlimited amount unless specified otherwise, so you can share it with your friends and they will also get the discount or free trial.
Do you have a Sellerboard coupon/deal for free credits or a trial?
✅ Yes, luckily we have arranged some Sellerboard deals for a free trial/freemium account.
Check them out below:
Is there an unlimited plan available for Sellerboard?
🚫 Unfortunately, Sellerboard does not have an unlimited plan. However, here are some other tools that do have an Unlimited Plan:
Does Sellerboard have a yearly discount deal?
✅ Yes, you can save money on Sellerboard when you subscribe to a yearly plan.
Take a look right here:
Sellerboard Lifetime deal, does it exist?
🚫 Unfortunately, Sellerboard does not have any lifetime deal. Any site that claims to have it are bogus. Any Sellerboard lifetime deal promotion is fake and dishonest sites use it as a bait to get you clicking on their affiliate links.
Is there any special offer or bonus when I sign up for Sellerboard?
🚫 Unfortunately, Sellerboard does not have a promotion when you sign up.
Does Sellerboard have a special promotion for students?
🚫 Unfortunately, Sellerboard does not have a promotion for students.
Is there an expiry date on the Sellerboard coupon?
💡 With the exception of season offers, all of our promo deals and coupons for Sellerboard are available for an unlimited amount of time and do not expire.
Does Sellerboard offer a money back guarantee?
🚫 Unfortunately, Sellerboard does not publicly disclose that they have money back guarantee. However, you could still ask them nicely for a refund, if you are not satisfied with their service.
How many days is the Sellerboard trial valid?
💡 You can enjoy the Sellerboard trial for 60 days. You can upgrade anytime to a paid plan while still in the Sellerboard trial.
Can I use the Sellerboard coupon without entering my credit card details?
✅ Yes, you do not need to enter your payment details to take advantage of the free credits/trial.
Am I allowed to share the Sellerboard coupon with my friend?
✅ Yes, you can share the Sellerboard coupon with anyone you like and as many times as you want. It is allowed and the coupon is not exclusively for one person.
Can I pay with Paypal for a Sellerboard subscription?
🚫 No, unfortunately Sellerboard does not accept PayPal payments.
How can I confirm that the Sellerboard coupon is valid, without having to pay?
💡 When you enter the coupon, you instantly see a confirmation that it is valid. At this stage, you do not have to enter any payment details. Sometimes, it will immediately show the discount on the page when you open one of our special offer links.
Can I combine Sellerboard coupons to get more discounts?
🚫 No, you can only use one Sellerboard coupon at a time. However, you can stack the coupon on a yearly discount to save even more on Sellerboard.
Does Sellerboard have an affiliate program?
✅ Yes,you can create an account with Sellerboard, then verify your email. Once you are logged in, look for the "Affiliate Program" website. Sometimes it's called "Referral Program" or "Partner Program".
I have a question about Sellerboard, can you help me?
✅ Sure, just submit your question on our contact page and we will get back to you as soon as possible.
Is it possible to submit a coupon or special promotion for Sellerboard?
✅ Definitely, you can use the form below to submit your coupon for Sellerboard. We kindly request you to submit only valid coupons. If you are the site owner and would like to be listed with your app/service, you can use the contact form and we'll be in touch with you.
🎁 Get 21% Off Sellerboard with Annual Payment