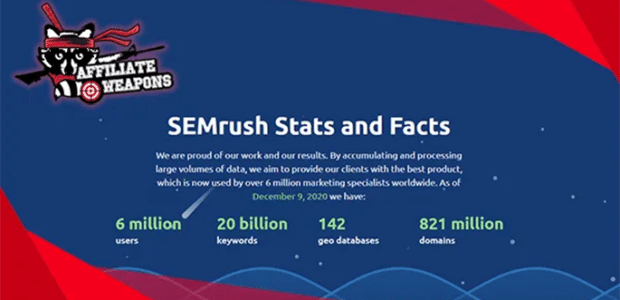 Success in the digital marketing competition landscape is only possible if your business has an online presence. And to make that online presence strong, you need to have a well designed & SEO-friendly website.
But that is not the end! Your website should generate organic traffic and for that, you need to do proper keyword research. But there are countless SEO keyword research tools out there and not all of them are made equal.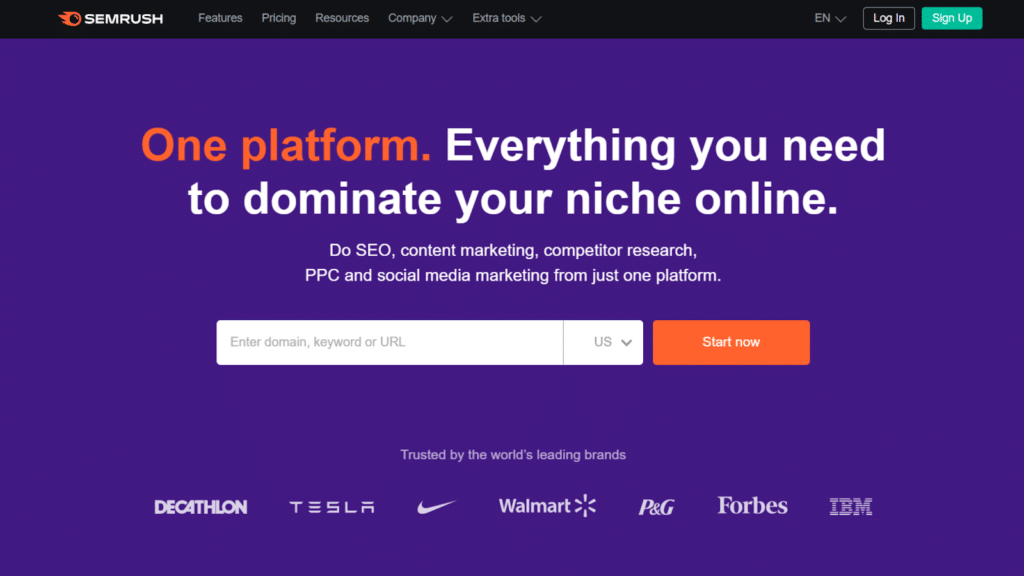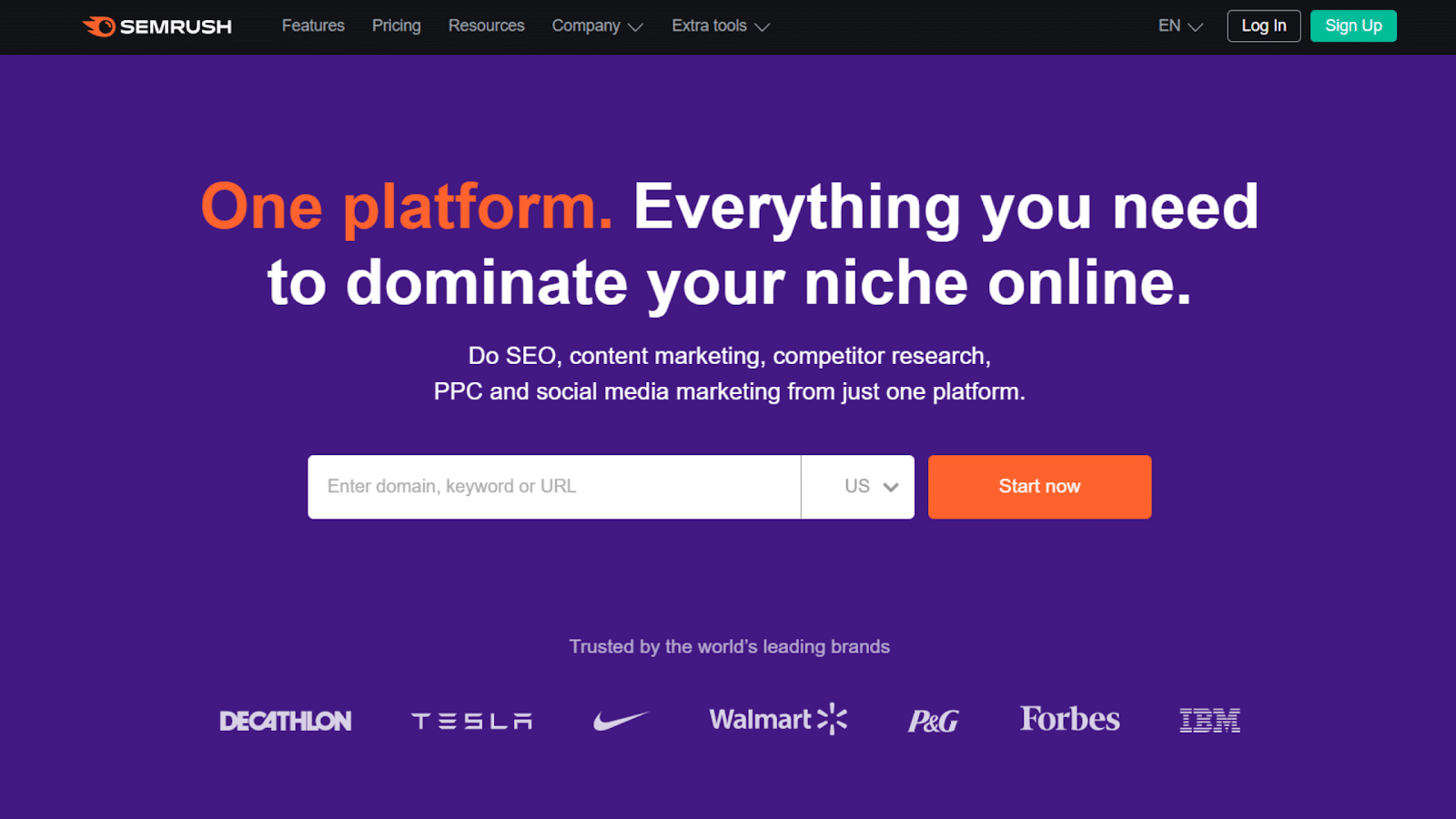 You can not think of going ahead of your competitors without having a proper organic & paid keyword research tool and strategic planning. In comes SEMrush – the one tool to meet all your SEO needs when it comes to dominating in the era of digital marketing.
When you come across websites that rank on the first page of Google SERPs, chances are that all of them use a keyword research tool to maximize their ranking and traffic. SEMrush is one of the most impressive all-in-one SEO tools that can help you maximize our site's performance and health. So without wasting any more time, let us dig deep into this keyword research tool, and along the way, you will find out that it is not only a keyword research tool but much more than that!
What is the SEMrush Tool?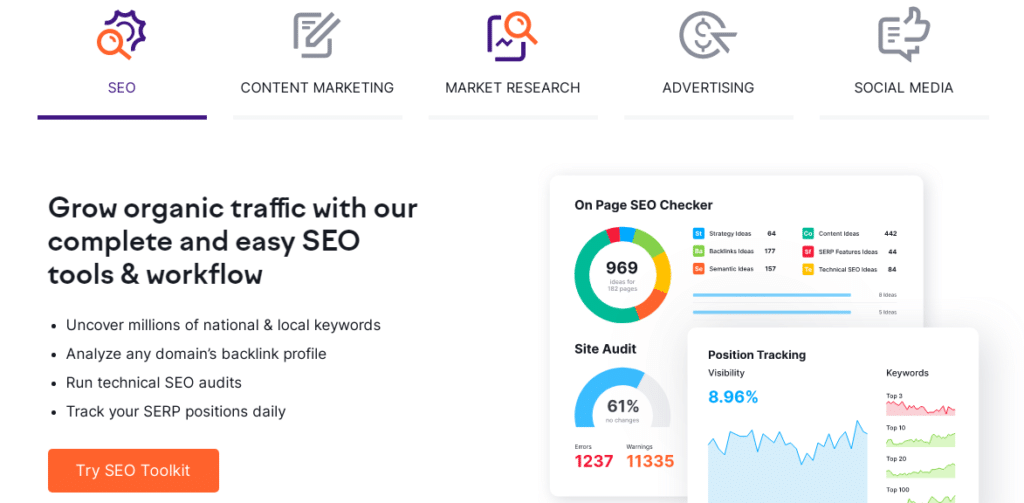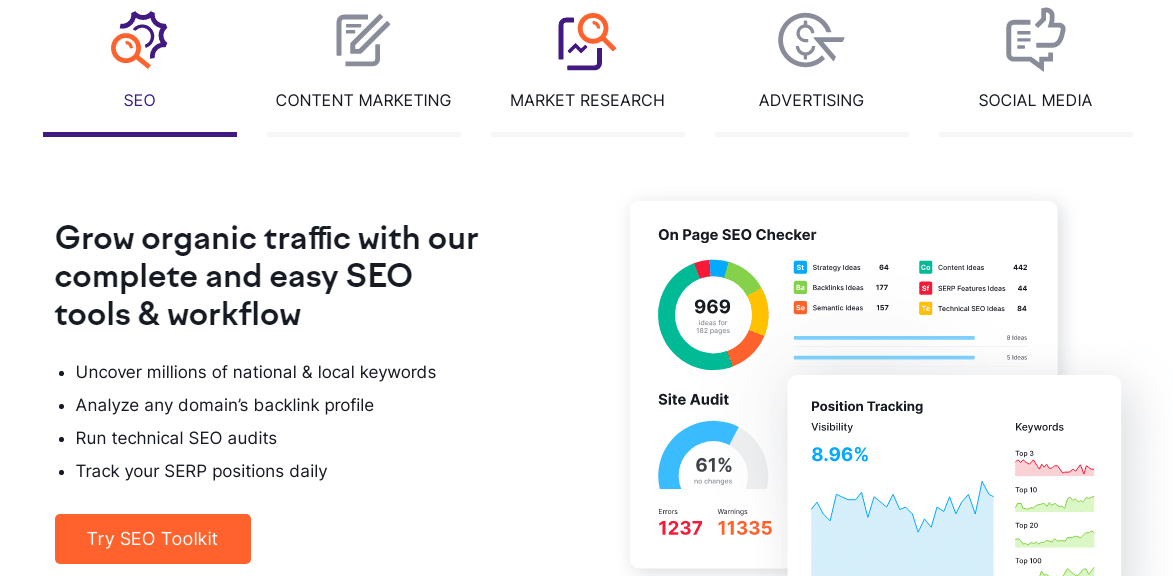 SEMrush is a keyword research tool that helps websites generate organic traffic, improves your brand's online visibility, and discovers marketing insights. It is an all in one suite that offers solutions for SEO, PPC, content, social media, and competitive research.
If you are a business owner struggling to improve your brand's exposure to the public, can use the SEMrush tool as it will help you massively dominate the SEO game and ultimately rank on the first page of search engines.
Nowadays, all successful website owners are using and implementing proper keyword research so that they can defeat their competitors in showing up first to the audience. Therefore, keyword research is very important to improve your brands' visibility and traffic.
There are a plethora of benefits of using keyword tools like SEMrush, including optimizing your website's performance. If your website is not showing up on search results and not generating traffic, then SEMrush can help.
Many renowned companies owe their success stories to SEMrush. This tool is very effective in increasing your brand's reputation as it covers everything your business needs to optimize your online presence across all key channels – be it on search engines or social media.
SEMrush commenced in 2008 and since then it has become the go-to SEO tool for many businesses. It has set its landmark in 12 years as one of the world's leading competitive research services for online marketing. Even now, many prominent companies maintained their market in the competitive digital era only because of this tool.
SEMrush Features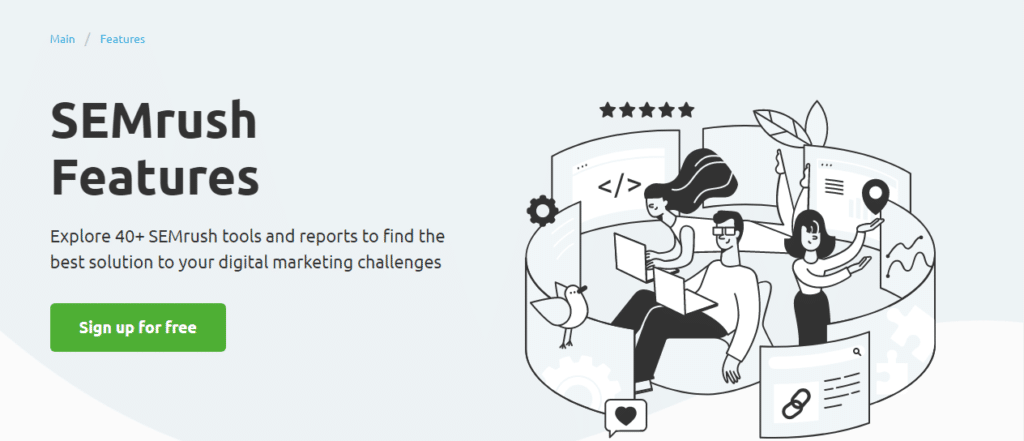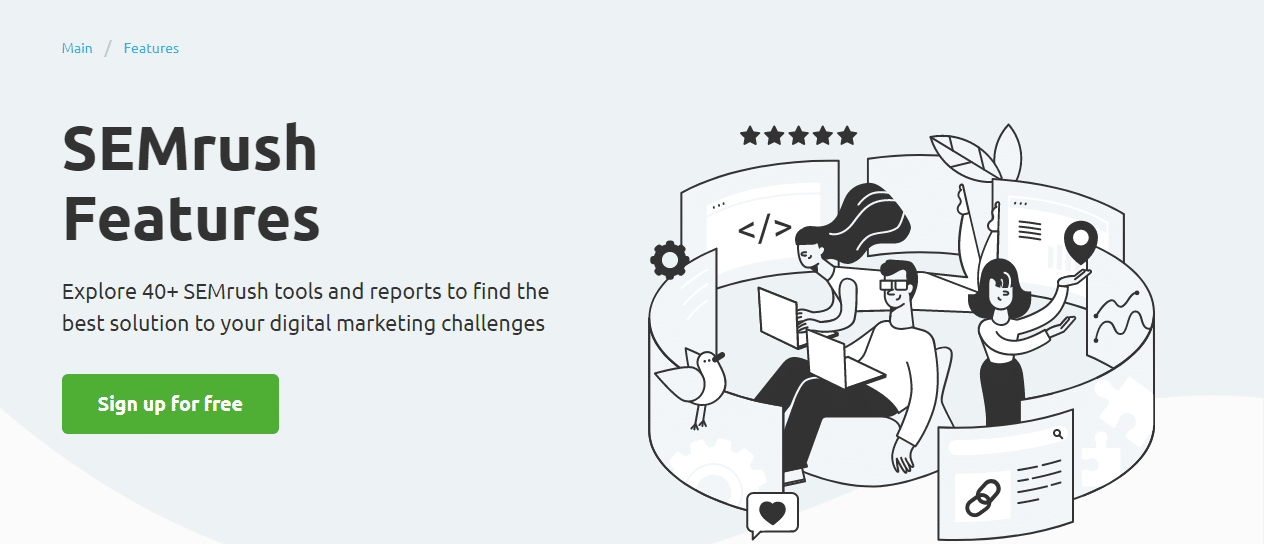 Do you know why SEMrush is preferred by so many businesses out there? Well, it's because of the features it has. Ranging from SEO keyword research to local SEO, PPC, and many more, this amazing toolset has many unique features that are not offered by any of its competitors. Here are some of the superb features of this elite tool.
Features:
Organic & PPC Keyword Research
On-page & Local SEO
Competitor & Market Analysis
Content Creation, Optimization, & Marketing
Rank Tracking
Social Media Management
Link Building
Content Marketing Analytics
Paid Advertising
Competitor PR Monitoring
Website Monetization, and more!
These are the features of the SEMrush tool. Let's dig a little bit deeper into all of them.
Keyword Research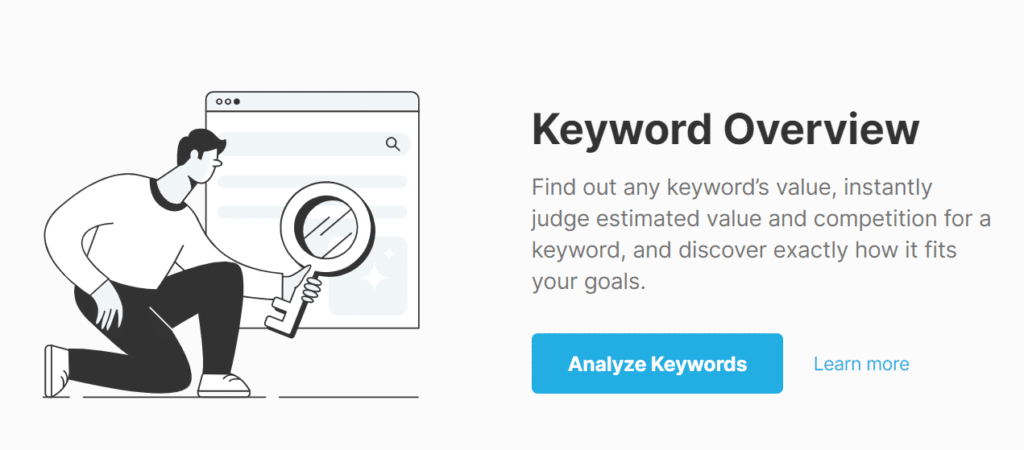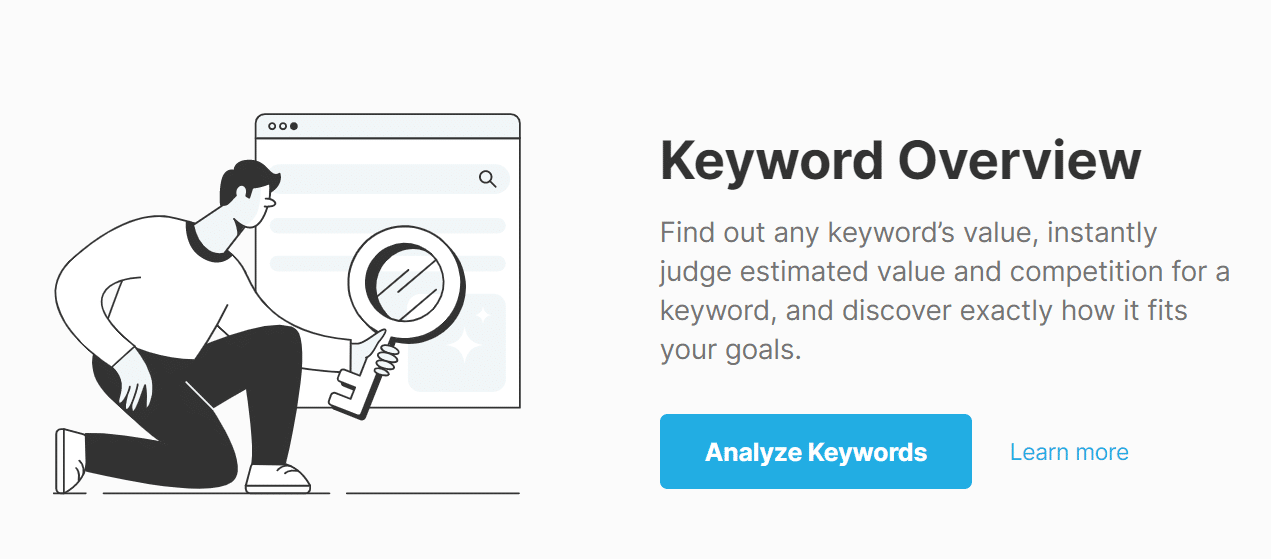 We can't stress more on how important keyword research is to show up on major search engines. You need to point out proper keywords that have high volume searches and have less competition.
Keywords are the only way customers are going to find you. And so, you can use the 6 keyword research tools included with SEMrush to improve your keyword optimization by finding low competition keywords and content strategy and you will find yourself dominant in the major search engines.
On-page SEO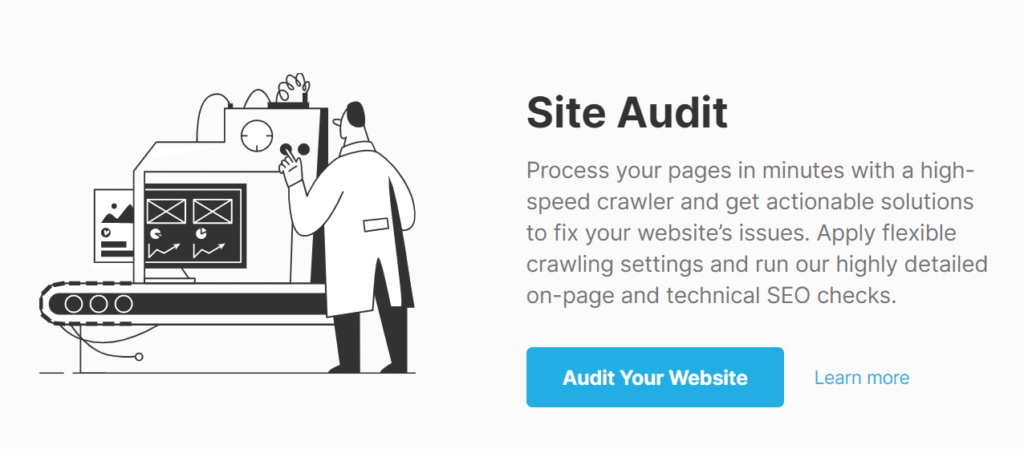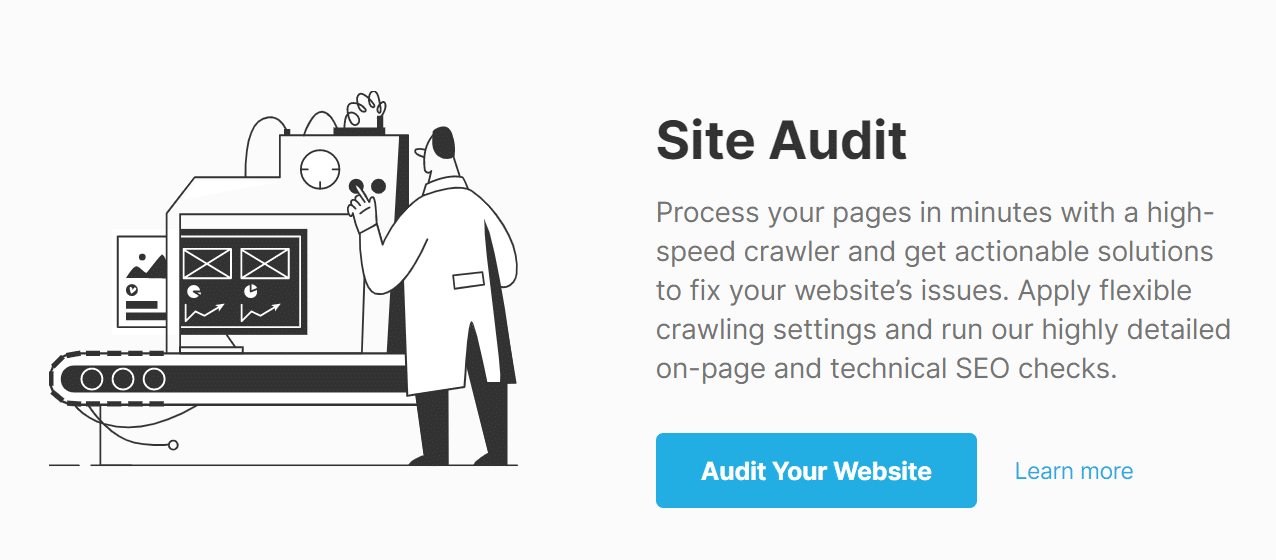 When people talk about SEO or optimizing your website, they generally mean on-page SEO and off-page SEO.
In short, the content that you craft and put on your website determines whether search engines will rank it or not. If the content you craft is irrelevant and doesn't have proper keywords infused then customers are not going to find you. Therefore, it is crucial to write excellent on-page content to up your SEO performance.
With SEMrush's 3 on-page SEO tools, you can audit your pages and gather knowledge on how you can enhance their health and SEO performance.
Competitor Analysis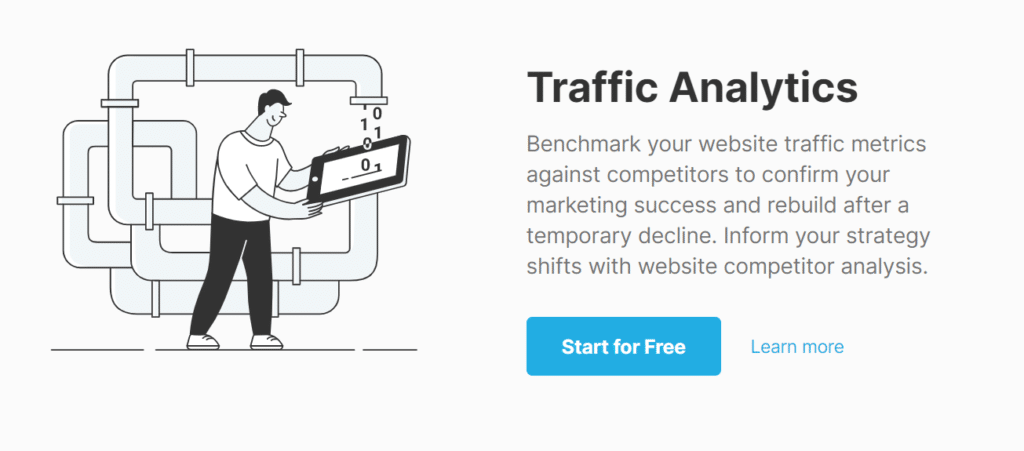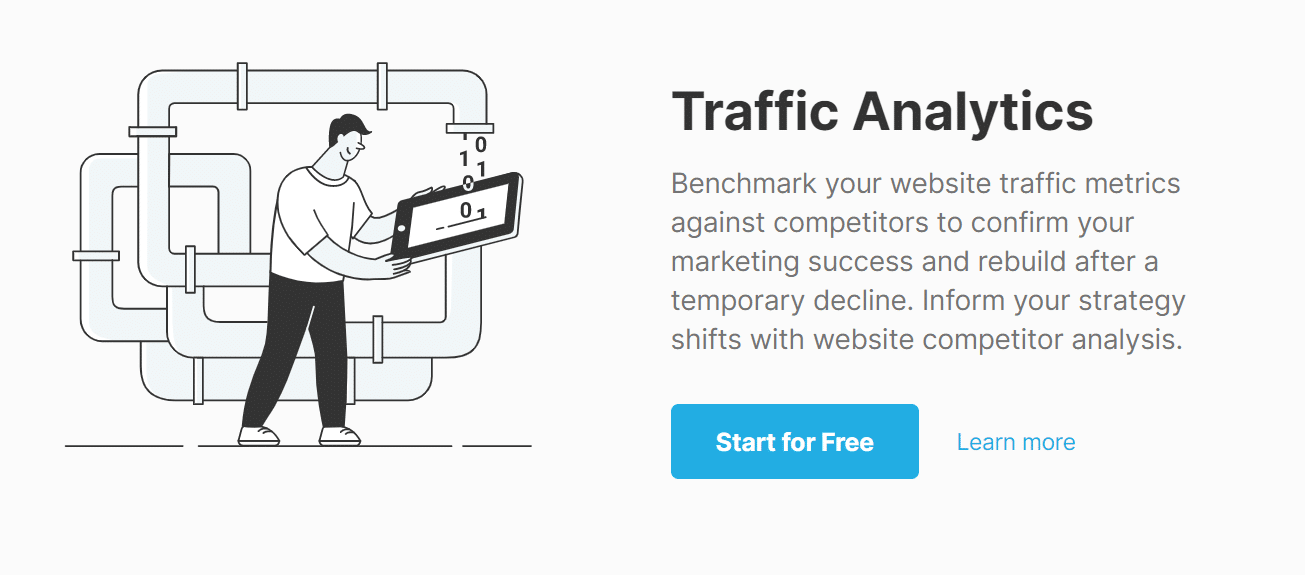 No matter how well you optimize your website, if you don't analyze the strengths and weaknesses of your potential competitors then there is no point in doing all these. SEMrush comes with 5 competitor analysis tools that will help you increase website traffic and accustom you with winning strategies to boost your brands' overall performance.
Content Marketing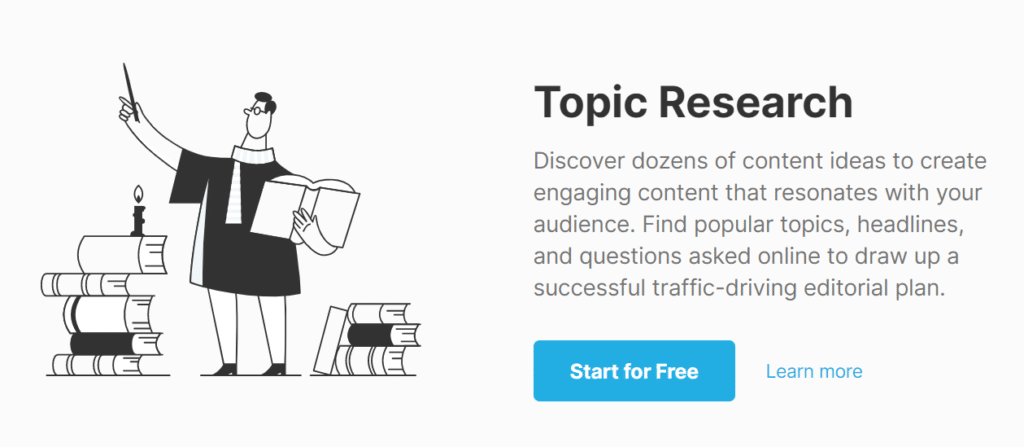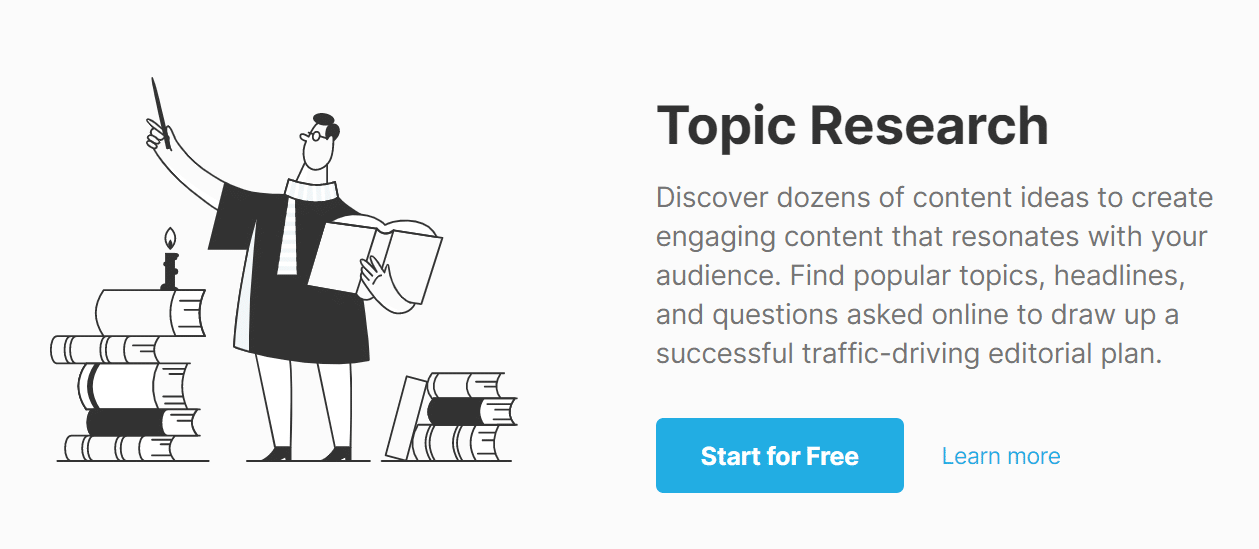 Want traffic and a high conversion rate? Focus on content marketing. You should create fresh, engaging content so that the audience finds it appealing. This way, you will have a lower bounce rate and you can turn visitors into potential customers. You can do it easily with the help of the 7 SEMrush content marketing tools since it helps you develop a proper content strategy with data-driven solutions.
Local SEO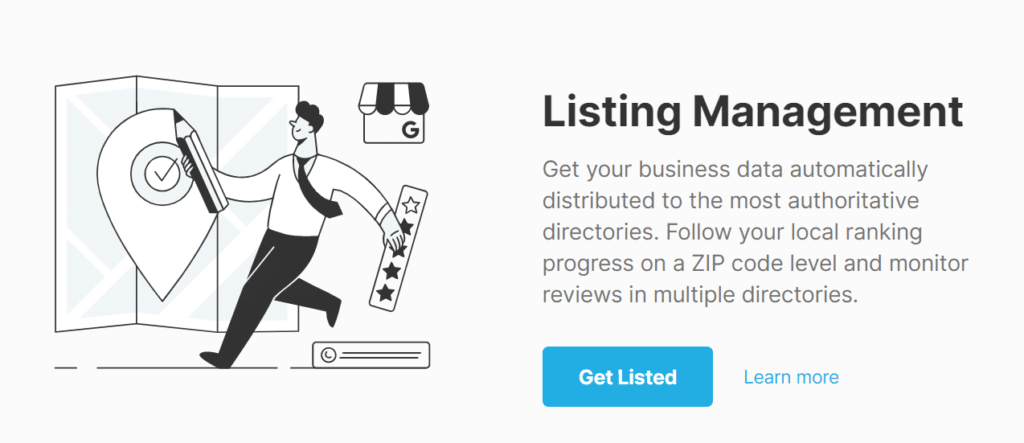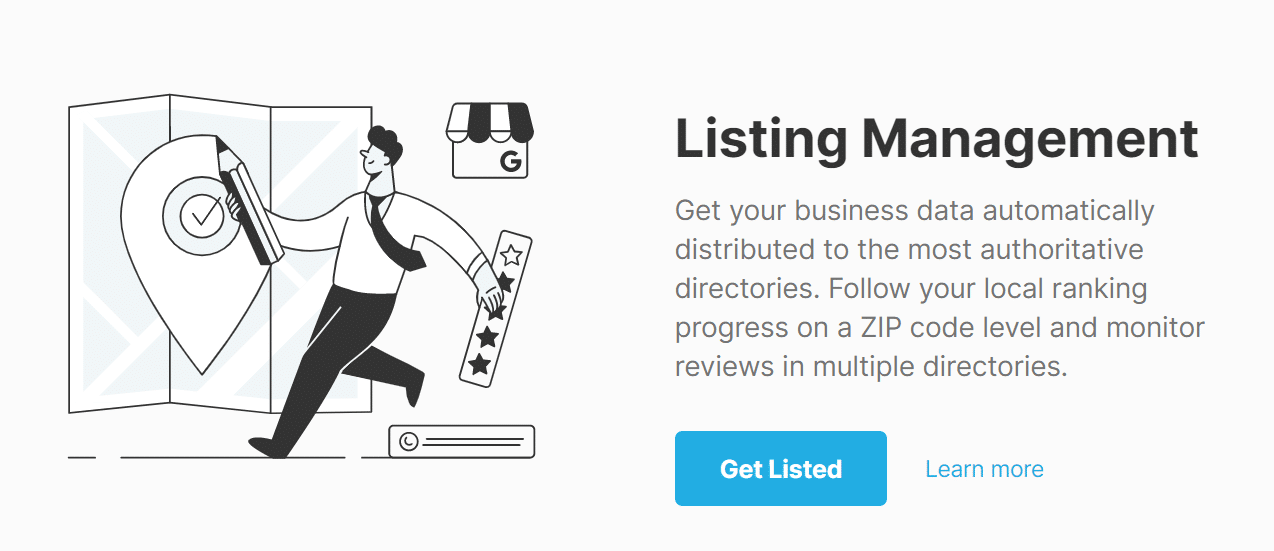 It has become comparatively tough for businesses to maintain their position in the vast field of digital marketing. As a result, businesses are nowadays targeting local customers. You should do that as well. You can optimize your website for local searches so that you can get more customers from your regions. Use the 4 SEMrush local SEO tools to get more local customers!
Rank Tracking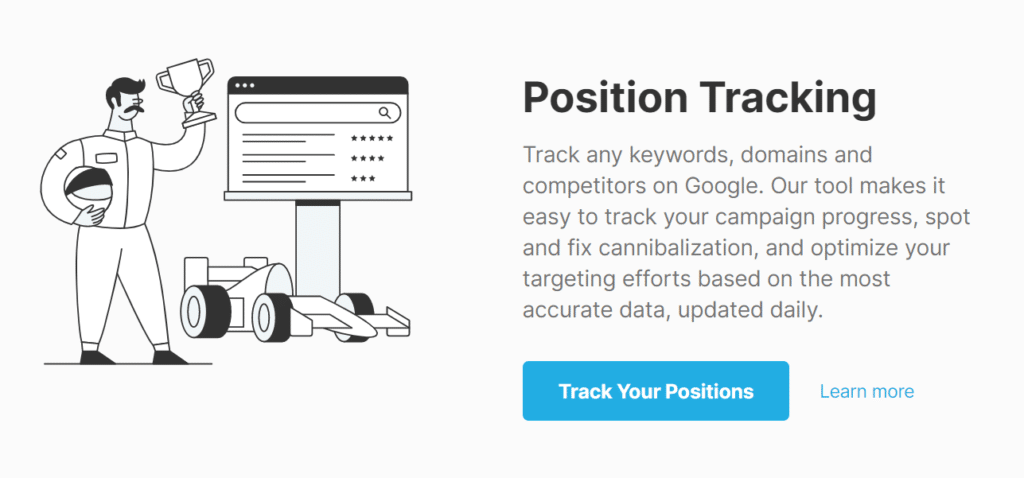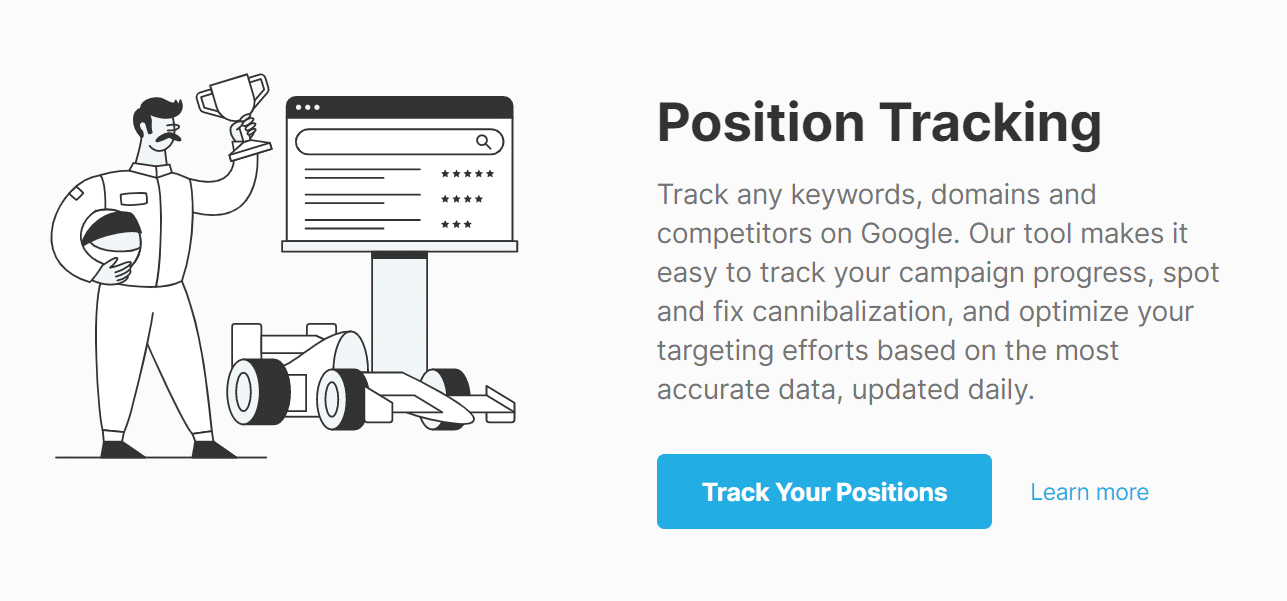 Rank tracking lets you keep track of your site's overall performance on a particular keyword. You should have a regular checkup to see how your site is performing and what keywords your competitors are using to rank higher and above than you. With the 3 rank tracking tools by SEMrush, you can track keywords in your target location.
Social Media Management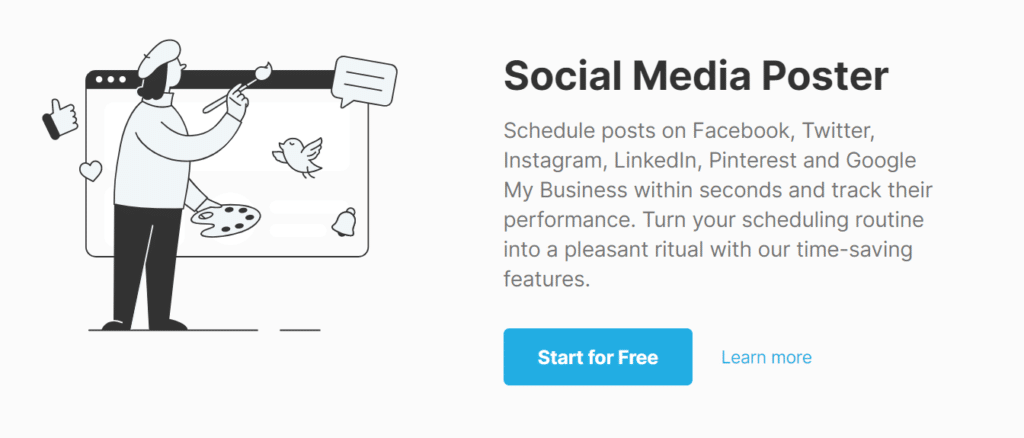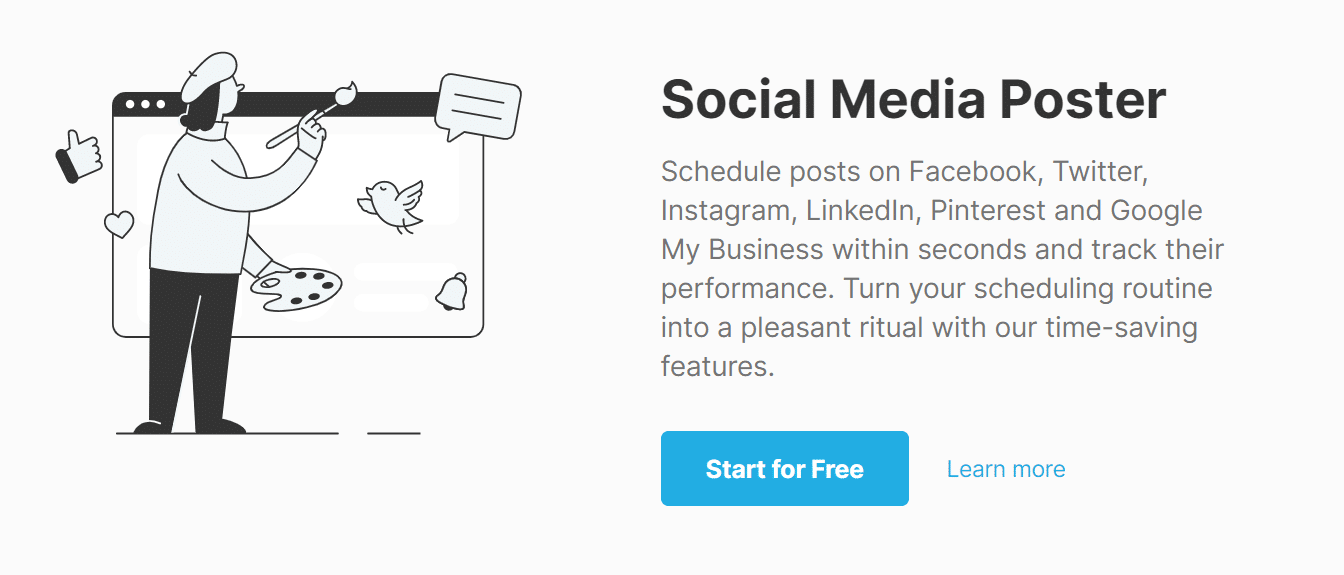 To expose your brand new business to audiences, you need to make proper use of social media. Most of the online traffic is going to be coming from social media platforms like Facebook, Instagram, Twitter, and so on. As a result, you need to make content relevant to social media platforms and analyze and publish them. SEMrush helps you with social media posting and analytics platforms.
Link Building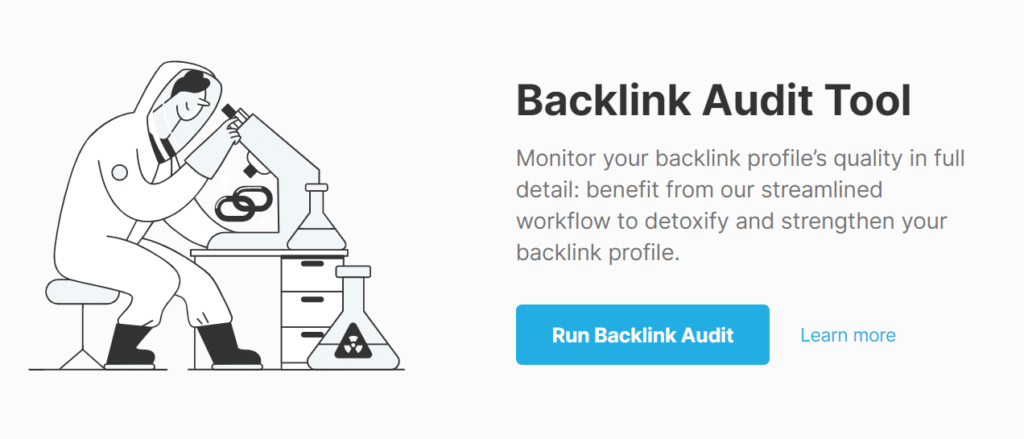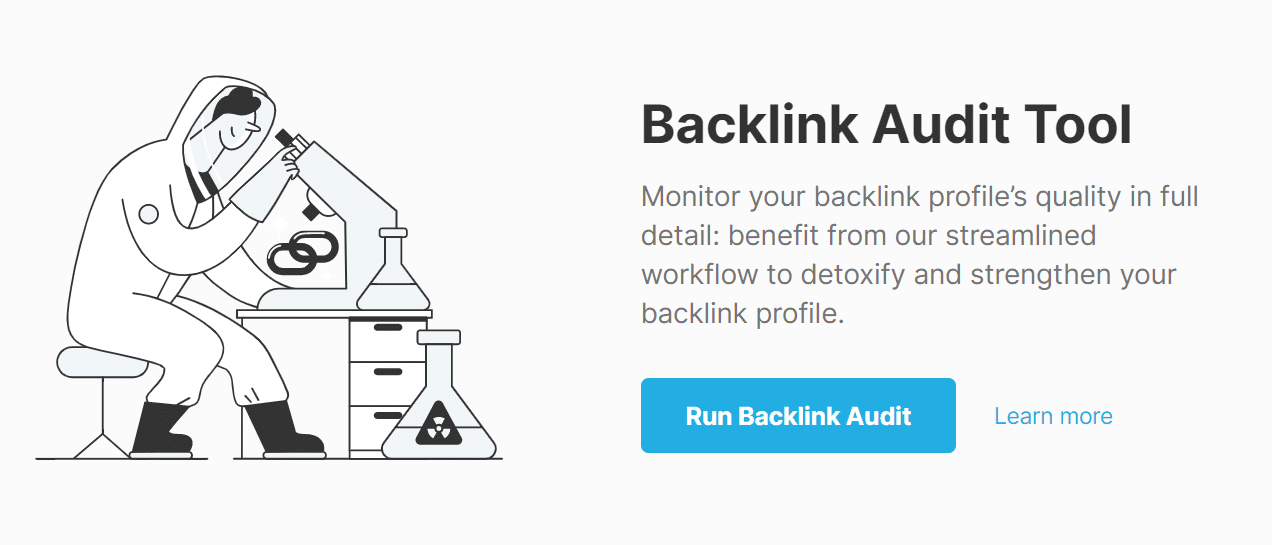 One of the common questions that you will encounter nowadays is "is link building important?" In the field of SEO, backlinks are more important than ever.
But keep in mind that quality backlinks are what search engines look for. So gather backlinks but make sure they come from quality websites. With the help of 5 SEMrush link building tools, you can strengthen your backlink profile.
Competitor SEO Analysis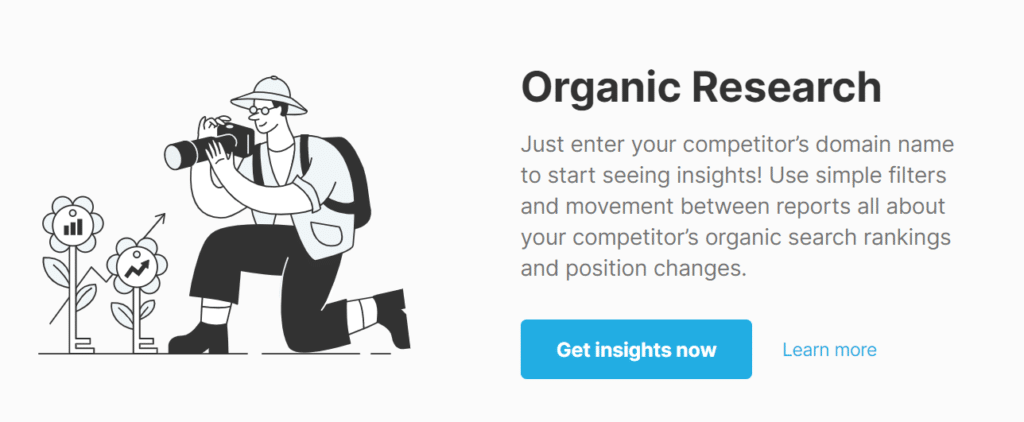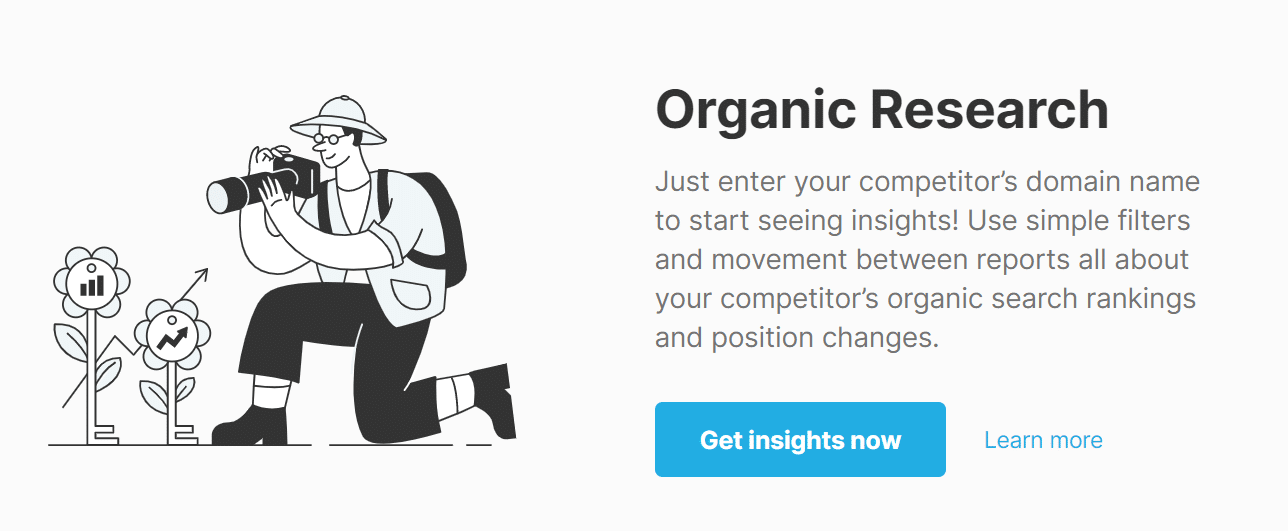 If you want to rank higher, get more traffic then you need to stress more on competitor SEO analysis. SEMrush has 5 competitor SEO analysis tools that will help you have an eye on your competitors, what they are using, and how they are performing – all these will help you to leverage your strategic planning and ideas.
Content Creation and Distribution


Create valuable, relevant contents that will attract customers to your services. Most successful businesses craft engaging content to retain customers' retention. Thus, it has become crucial to create fresh content (traffic-driving articles) that will resonate with your customers.
Content Optimization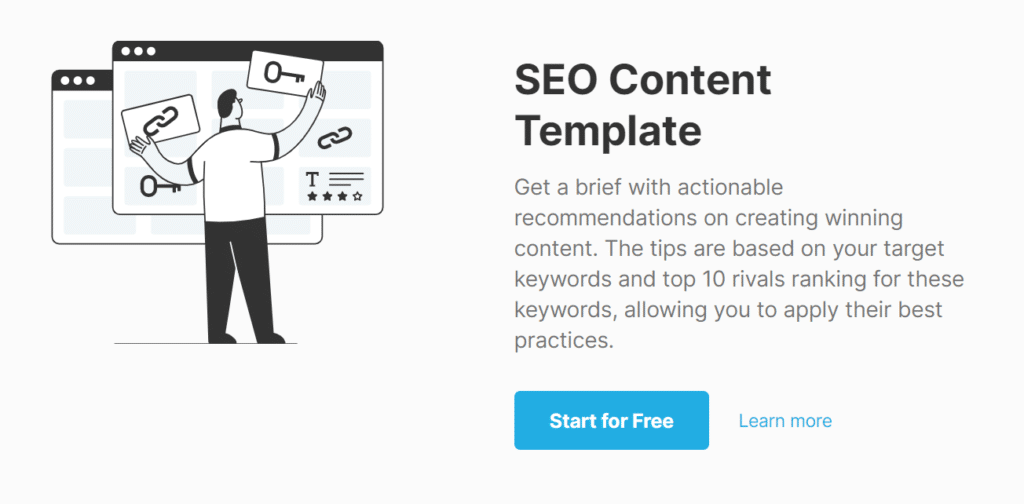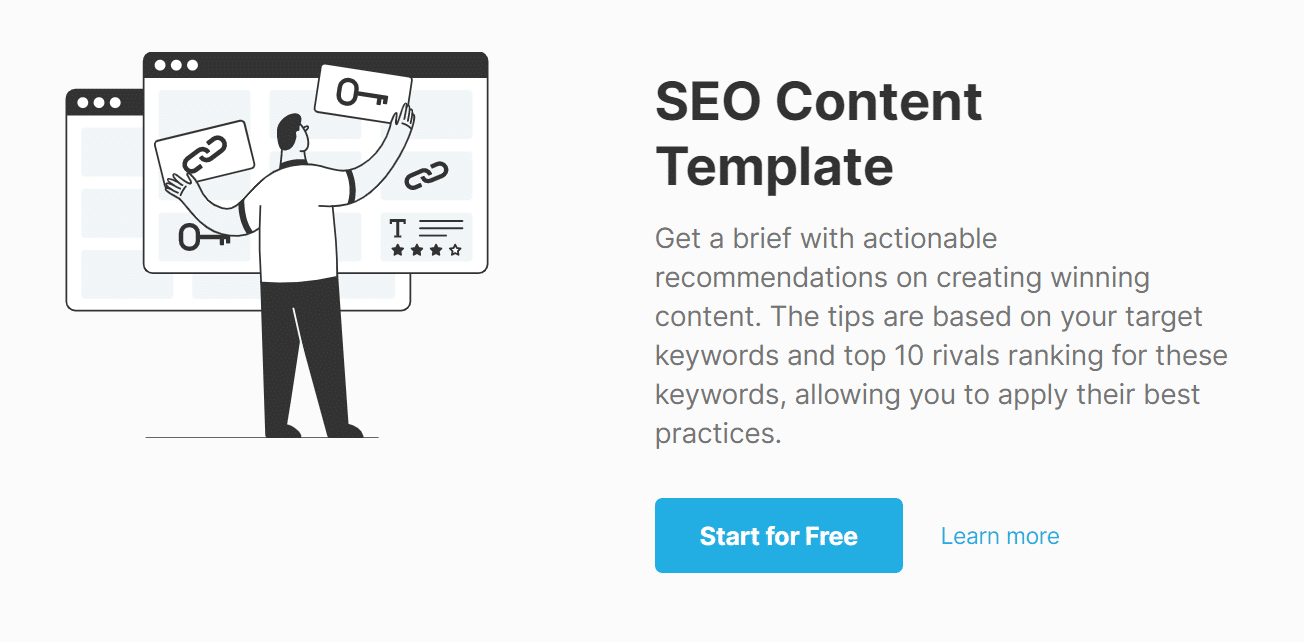 Are you worried because you have written excellent content but not generating ample traffic? Well, chances are your contents are not optimized even though you have written them with top-notch ideas.
Search engines are sophisticated, and you must abide by their regulations to show up on the SERPs. You must optimize your content with proper keywords so that customers can find you easily. SEMrush will help you do exactly that by optimizing your content to drive more traffic.
Content Marketing Analytics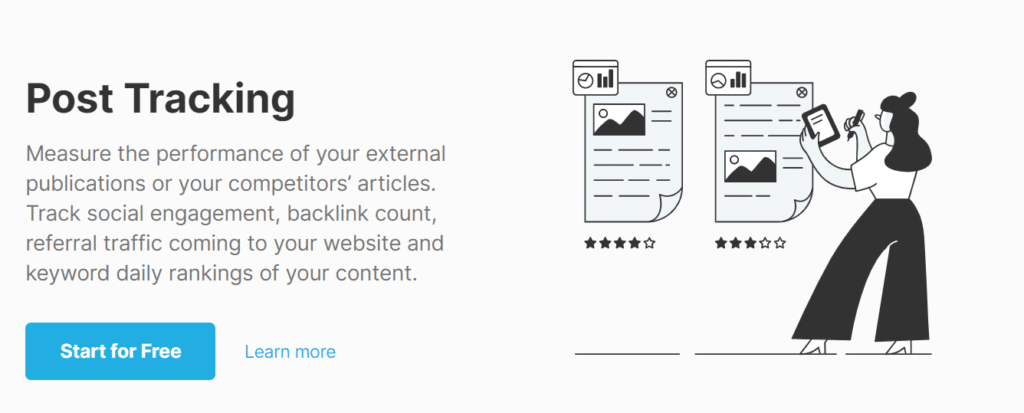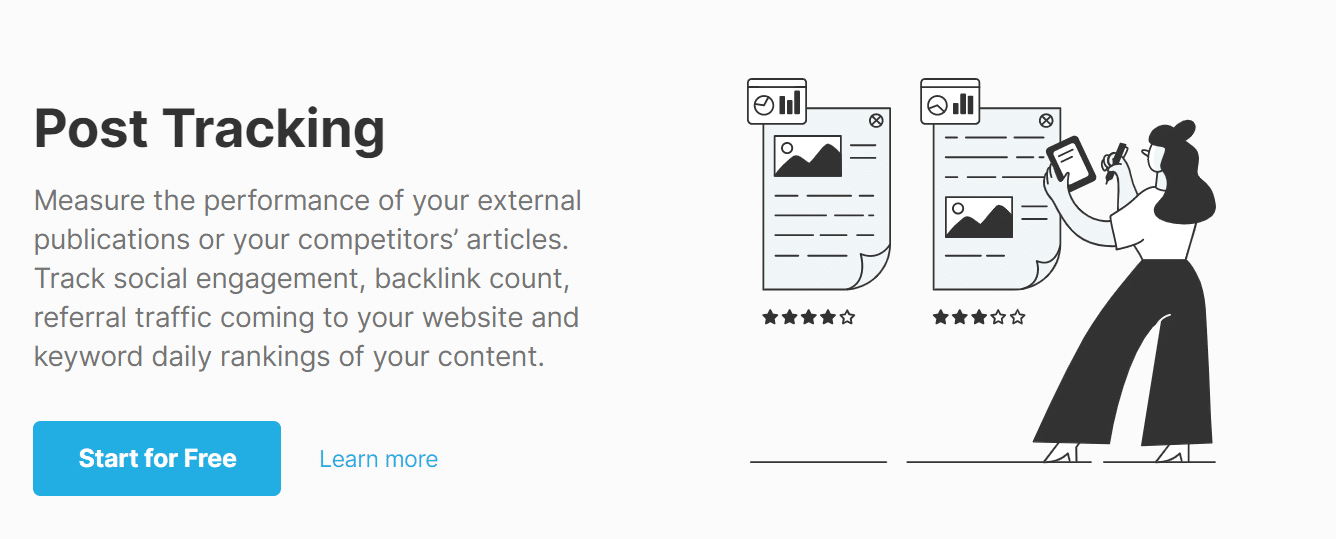 There's always room for improvements in content marketing. One day you will come up with an idea, and another day you will get a better idea than the previous one. Ergo, you will need to do some touch-ups here and there. With 2 superb content marketing analytics tools from SEMrush, you can access your content performance to recognize rooms for improvement.
Market Analysis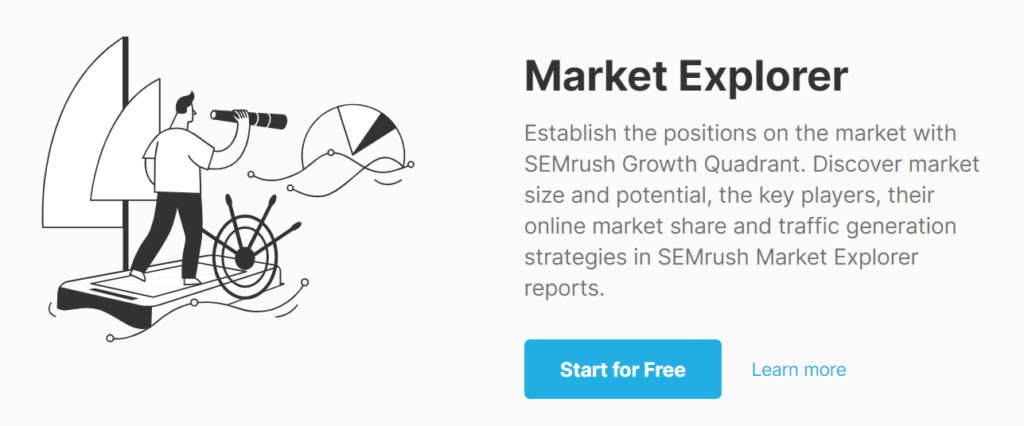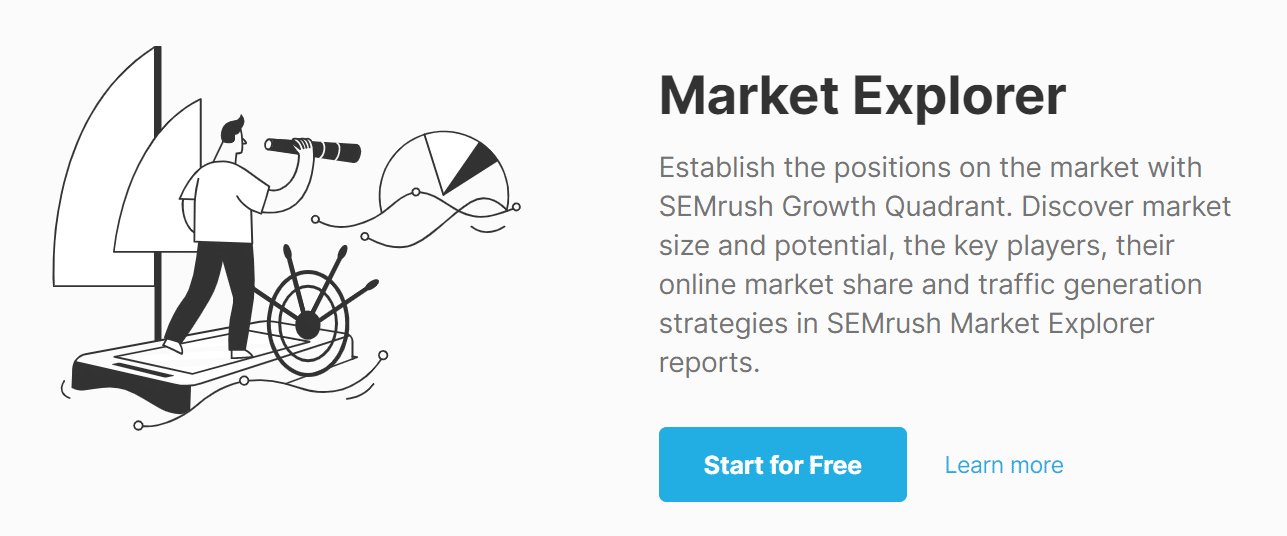 Market analysis helps you analyze your site's position and information about the overall market. It's an all-in-one SEO suite for all your ongoing marketing analysis of the growth and performance of your business. You can analyze your position as well as get ahead in the competition with the help of SEMrush.
Paid Advertising


Paid Advertising is an excellent advertising option for business owners to drive traffic to their websites. But you have to be aware of ROI (Return On Investment).
If you are spending 2000$ to earn only 20$, then it is not worth it. However, if you think you are doing great running ad campaigns and generating a huge amount of web traffic then you can give it a shot! When you use the SEMrush, you get to see the paid keywords and ad copy from your competitors' PPC ads.
Competitor PR Monitoring


SEMrush's 3 competitor PR monitoring tools will help you keep track of your rivals' online mentions and social media activities. Monitoring their activities is vital for your success. You will have to do something better than what they are doing, and only then you'll be able to race ahead.
PPC Keyword Research


With 5 SEMrush PPC keyword research tools, you can build your perfect paid search campaign. PPC keyword research can help you choose the proper keywords for your brand's success.
Website Monetization


There is nothing more satisfying than to see your website generating revenues. Your hard work should pay off. SEMrush has 4 great website monetization tools that can help you monetize your website. There will be a time when the blog posts you have written and all other contents will start generating income!
Advantages Of Using SEMrush


There are pros and cons to everything. SEMrush is no different. Here are the advantages you get when using SEMrush:
Intensive Keyword Research: With SEMrush, you can perform intensive keyword research as it provides comprehensive keyword analysis and allows you to pick the proper keyword that matches your niche.
Reasonable Price: SEMrush has comparatively reasonable plans for the startups and new business owners except for the pro plan which is a bit expensive.
Gives detailed information ( about visitors): SEMrush delivers exact demographics of your users' age, gender, and location. This helps you to choose the right products and services according to their age and type.
Gets rid of toxic elements: Sometimes, without your knowledge, you can gather spammy backlinks that are harmful to your site. SEMrush helps you to get rid of all the toxicity, and thus it provides excellent benefit for your site's overall performance and health.
Disadvantages
With all these benefits SEMrush has to offer, there are some cons of using this tool too.
Lacks user-friendly interface: SEMrush can seem daunting to newbies as the interface is not user-friendly and requires a steep learning curve to grasp the interface. In short, it's a little too technical for beginners and requires a certain degree of experience.
Too big to handle: SEMrush has an ample amount of features for your marketing needs and for this reason, you will need some time to adjust and get used to it if you haven't used it before.
Customer complaints: Some customers complained about inaccurate ad spend data which doesn't persist for a long time and is considered as a one time glitch or so.
Pricing
SEMrush has both monthly and annually billed plans. It also has a 7-days free trial with its monthly Pro and Guru plans. You can also save up to 16% if you subscribe to the annual plans.
| | | |
| --- | --- | --- |
| Pro | Guru | Business |
| $99.95/ month | $199.95/ month | $399.95/ month |
| This package is perfect for those who are on a limited budget like freelancers, startups, and in-house marketers. SEMrush Pro plan has over 40 advanced tools that let you run your SEO, PPC, and content projects. | Guru package is perfect for SMB and growing marketing agencies. This package has the Pro features along with Content Marketing Toolkit and others that are mentioned in the features down below. | Ideal for agencies, projects (e-commerce), and businesses with a large web presence. The Business plan has Pro and Guru features along with API access, sharing options, and so on. |
Features of using SEMrush's Pro, Guru, and Business plan:
| | | | |
| --- | --- | --- | --- |
| Features | Pro | Guru | Business |
| Results Per Report | 10,000 | 30,000 | 50,000 |
| Reports Per Day | 3,000 | 5,000 | 10,000 |
| Display advertising research | ✔ | ✔ | ✔ |
| Keywords to track | 500 | 1500 | 5,000 |
| Projects | 3 | 15 | 25 |
| Pages to crawl per month | 100,000 | 300,000 | 1,000,000 |
| Social Profiles for monitoring | 50 | 30 | 300 |
| Social Profiles for Posting | 10 | 30 | 50 |
| Scheduled Pdf Reports | 5 | 20 | 50 |
| Historical Data | ✖ | ✔ | ✔ |
| API Access | ✖ | ✖ | ✔ |
| Product Listing Ads | ✖ | ✖ | ✔ |
Billed Monthly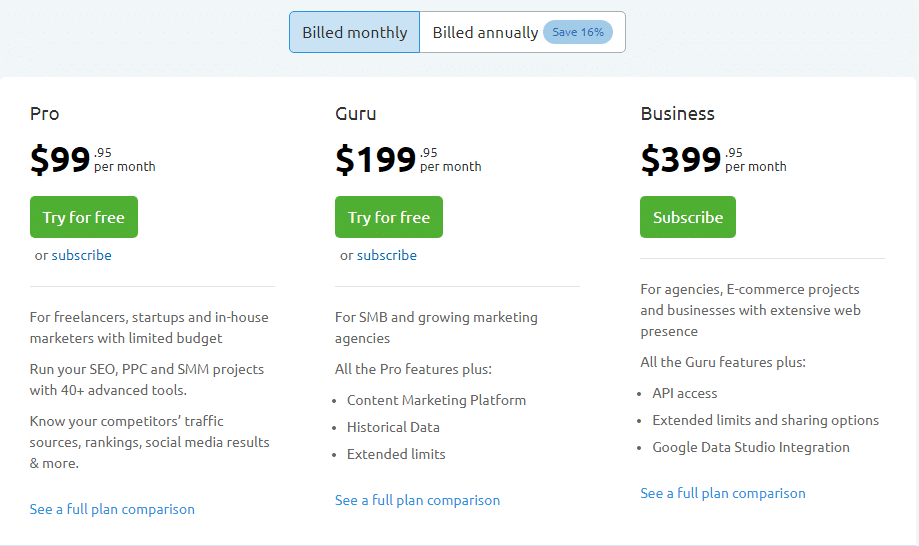 Billed Annually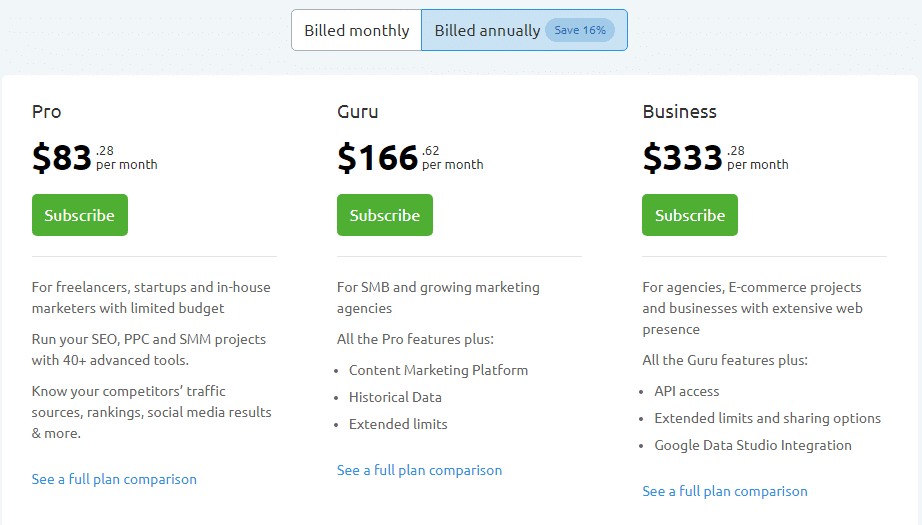 Conclusion
SEMrush has already served over 6 million users. It also has over 20 billion keywords, 800 million websites, and 45 different tools and reports, so you can't go wrong with selecting this tool if you are in the market for an all-inclusive SEO suite!