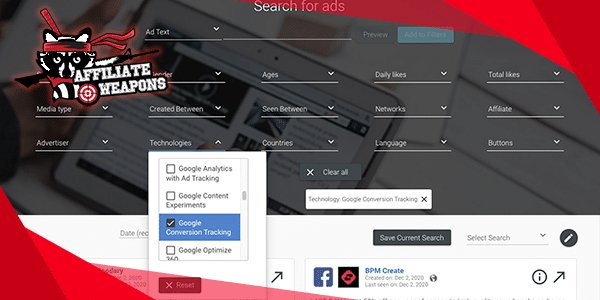 Here's the full list of technologies you can filter in AdSpy
It's very useful to find out the type of company the website is in the AdSpy search results.
For example, if you have service that's targeted to Shopify users, you could select the domains that use this technology.
To narrow down your search you could add more Technology filters, for example, Google Conversion Tracking.
This way you have super targeted result list of websites that use Shopify and Google Ads.
Now you could contact the sites and offer them a service like: Boost your Shopify Conversion with Google Ads.
List of technologies
AB Tasty
Act-On
Active Campaign
Active Conversion
Adobe CQ
Adobe CQ Analytics
Adobe Dynamic Tag Management
Adobe Experience Manager
Adobe Marketing Cloud
Adobe Scene7
Adometry
Affiliatly
Agent Interactive
AirPR
Alexa Certified Site Metrics
Alexa Metrics
Amazon Webstore
Ambassador
Amiro.CMS
Amplitude
AppDynamics
Atlas Action Tags
Augur
AvantMetrics
BLVD Status
Baynote
Bazaarvoice
Beeketing
BigCommerce
BigCommerce Analytics
Bing Universal Event Tracking
Blogger
BloomReach
Blue Triangle Tech
BlueCore
Bombora
Boomtrain
BorderFree
Branch
Bronto
BuddyPress
CQuotient
CallTrackingMetrics
Candid
Cardlytics
Cart Functionality
Cedexis
Certona
Chameleon
ChannelAdvisor
Chartbeat
ClickFunnels
ClickTale
Clicky
Cloudflare Rocket Loader
Codeblackbelt
Contegro
Conversio
ConversionLab
Convert
Convertro
CoolaData
CorePublish
Coremetrics
CrazyEgg
Cross Pixel Media
Cubender
Curalate
Customer.io
Custora
DC Storm
DataXu
Dataium
Datalogix
Decibel Insight
Demandbase
Demandware
Digby
Digital River
Digital Window
Dotomi
DoubleClick Floodlight
Drupal
Dynamic Logic
Dynamic Yield
Dynatrace
EIBS Easysite
ETracker
Effective Measure
Efficient Frontier
Ektron
Elcom CMS
Eloqua
Endeca
Everest Technologies
Evergage
Experian Stats
ExpressionEngine
Extole
Facebook Conversion Tracking
Facebook Domain Insights
Facebook Pixel
Facebook Signal
Facebook Tag API
Fastly
Flipp
ForeSee Results
Fraudlogix
Friendbuy
FullStory
Gannett CMS
Gemius
Gemius PL
GoSquared
Google Analytics
Google Analytics IP Anonymization
Google Analytics with Ad Tracking
Google Content Experiments
Google Conversion Tracking
Google Optimize 360
Google Search Appliance
Gravity Insights
Greenhouse
HP TeamSite
Heap
Heatmap IT
Hextom
HiConversion
Homestead
Hotjar
HubSpot COS
Hubbard One
Hubspot
Hybris
IBM Websphere Commerce
IPG Mediabrands
IXI Digital
IgnitionOne
Imperia CMS
Improvely
Infusionsoft
InsightExpress
Inspectlet
Instapage
Instart Logic Loader
Interrogare
Interspire
Invite Media
Jirafe
Joomla!
Jumpstart
Junction Solutions
JustAddCommerce
KISSmetrics
Keen IO
Kenshoo
Kentico
Keywee
Klaviyo
Krux Digital
LeadPages
Leadin
Lexity
Liferay
LinkedIn Insights
Linkpulse
Listrak
LiveRamp
Loggly
Loopfuse
LotLinx
Lotame Crowd Control
Lucky Orange
Lytics
Magento
Magento Enterprise
MailMunch
Marin Software
Marketo
Mass Relevance
Maxymiser
MediaMath
MediaMind
Mercent
MerchantAdvantage
Microsoft Adcenter
Microsoft Application Insights
Mirus Research
Miva Merchant
Mixpanel
Moat
Modular Merchant
Monetate
MoovWeb
Mouseflow
Navegg
NetSuite
NetSuite eCommerce
Netmining
New Relic
News Distribution Network
Nielsen//NetRatings
Nosto
Nucleus CMS
Omniture Adobe Test and Target
Omniture SiteCatalyst
OpenCart
Openstat
OpinionLab
OptiMonk
Optimizely
Optimost
Oracle Commerce
OwnerIQ
PageFair
Pardot
Parse.ly
PicReel
Pingdom RUM
Piwik Web Analytics
Pixalate
Placed
Pmetrics
PriceSpider
Quantcast Measurement
Qubit Deliver
Rapleaf
Raygun
RebelMouse
Reflektion
Retention Science
Revalsys
Riskified
SLI Systems
Safe Count
Sailthru Horizon
SaleCycle
Salesforce
Satellite
ScarabResearch
SchoolWires Centricity
Secomapp
SecuredVisit
Segment
SessionCam
Shareaholic
ShopDirect
Shopify
Sidecar
Sift Science
Signal
Silverpop
SiteSpect
Sitecore CMS
Siteimprove
Smart Leads Inc
Smartlook
Snowplow
Soasta mPulse
Soundest
Spree
Squarespace
Squarespace Commerce
StatCounter
Statsit
SteelHouse
Sugester
Synapse Clickable
TVSquared
TYPO3
TagMan
Taleo
TeaLeaf
Telerik Sitefinity
TellApart
Thomson Reuters Corporate Solutions
TradeDoubler
Trustpilot
Twenga
Twitter Analytics
Twitter Conversion Tracking
Twitter Website Universal Tag
Tynt Tracer
Unbounce
UpSellit
Usabilla
UserMood
UserReplay
UserZoom
VP-ASP
Ve Interactive
Visible
Visual IQ
Visual Sciences
Visual Studio Tracking
Visual Website Optimizer
VisualDNA
VisualPath Trackset
Vizury
VoiceFive
VoiceStar AdTrack
WP Engine
WebCollage
WebEx Panel
WebTrends
WebsiteBaker
Websphere Portal Server
Webtrekk
Wiredminds Web Analytics
Wix
WooCommerce
WooCommerce Checkout
Woopra
WordPress
WordPress VIP
WordPress eStore Plugin
Workplace by Facebook
X-Cart
Yahoo Dot
Yahoo Web Analytics
Yandex Metrika
YieldifyYii Framework
Zoovy
aWeber
comScore
dotMailer
eBay Enterprise
eSellerPro
iGoDigital
iPerceptions
iovation
mParticle
netFactor – VisitorTracker
trueAnthem
If you are interested in subscribing to AdSpy, make sure to use our $75 AdSpy Coupon